I will be showing you how easy it is to make homemade flaxseed hair gel.
As a hair stylist, I know the importance of using good product that won't build up on hair after several uses. I also know that it can be hard to find a good hair gel for curly/ wavy hair.
I believe that I have an answer to both those issues. Which is why I want to show you how easy it is to make hair gel for yourself with out having to leave home. (Introverts unite)
Now, I try to stay away from silicones/ waxes, phthalates, and "fragrances". It is important to me to keep our personal care products free from hormone disrupting, toxic ingredients. But I also want something that will work.
So when a friend shared this flaxseed hair gel recipe, I was excited to give it a try. You can make it without gelatin and you probably have the ingredients on hand. It only has 3 ingredients and is super inexpensive.
Please note that this post contains affiliate links and I may possibly earn a commission on qualifying purchases at no extra cost to you. I am an Amazon associate.
If you don't happen to have flaxseeds at home already, you can grab some here.
And if you deal with tangles/ need a good wet hair brush, I like these kinds.
I've now been using this homemade flaxseed hair gel for about 4 months. I won't be going back to any thing else.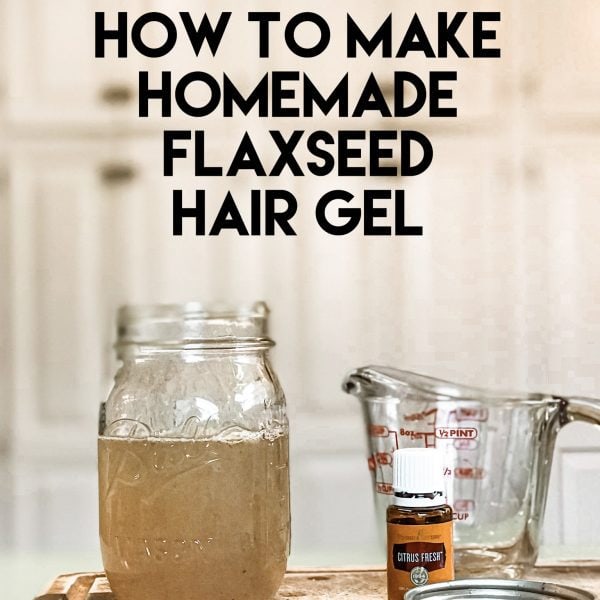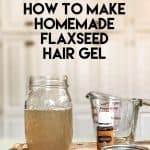 Print
How to Make Homemade Flaxseed Hair Gel
Easily make your own hair gel with 3 simple ingredients
Equipment
Pint Mason jar

Sauce Pan

Measuring cup

2 cup Liquid Measuring Cup

Mesh Strainer

Spatula

Small glass or metal mixing bowl

Funnel (optional)
Materials
1/4

cup

flaxseed

whole, brown or golden

2

cups

Water

divided 1, 1

5

drops

Citrus Essential Oils

any citrus can be used; to help preserve it
Instructions
Take 1 cup of water and 1/4 cup flaxseed and pour in to sauce pan.

Bring to a foamy boil, watching carefully to not let it over flow. Turn heat down as needed.

Boil the mixture, stirring often for 2 minutes

Then strain with mesh strainer either directly in to the mason jar if you have a funnel.

Or strain in to a mixing bowl, removing the flax seeds.

Now repeat the process with the additional 1 cup of water and return the same flax seeds to the water.

Bring to a foamy boil again, this time for 3 minutes. Stir often.

Strain the gel in to the jar or bowl again.

Immeditatly rinse out sauce pan. (Otherwise it is very hard to clean if you wait.)

If you used a bowl to catch the gel from being strained, pour it in to the liquid measuring cup to easily pour it in to the mason jar for storage.

Add 5 drops of your desired citrus essential oil to help preserve the gel

Store in the fridge for best results
Notes
If you store the gel in the fridge
the product lasts for about 2 weeks.
After that it starts getting a little smelly and then I make a fresh batch.
If you do have some left that is bad, DO NOT POUR IT DOWN THE DRAIN. Take it to an outside garbage can and dispose of it there. It can clog your drain. And I say to take it outside because otherwise it will stink up your house. 
The hair gel does have a slippery, slimy feel which may take some getting use to. But it really is super simple to make and is worth the adjustment to me. It's quick, costs pennies and removes un necessary toxins from your daily routine. 
This amount works well for me with thick, medium long hair but play around with amounts if you feel you go through it faster than 2 weeks.
Or if you have shorter, fine hair, you could possibly stop after the first cup of water is turned in to gel as you may not need as much.
Some Curly Girl Tips on How To Use This Homemade Hair Gel
I loosely use the Curly Girl Method. I won't go in to great detail about it, but I'll give some highlights on it. This homemade hair gel is best for curly/ wavy hair.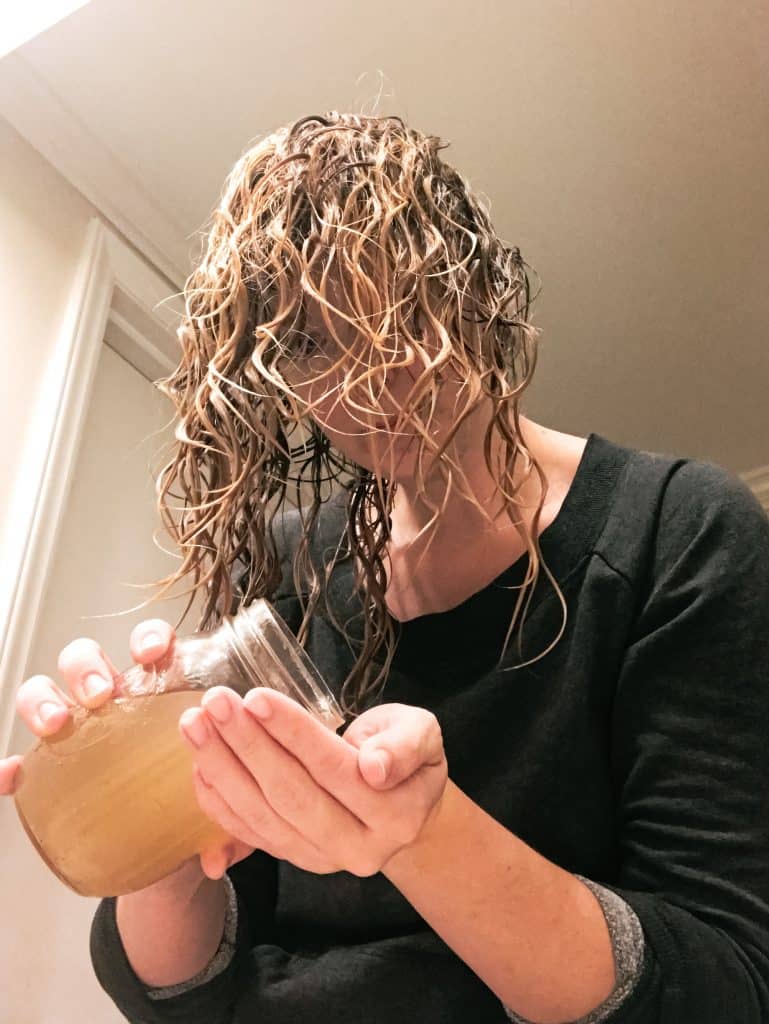 First:
When I wash my hair, I shampoo like normal, with my head up right. When it comes time to condition, I use a wet brush to help work it through the lengths of my hair, with my head upside down. This helps to get volume at the crown as you move the hair away from how gravity is usually pulling it down.
Second:
I then rinse about 30% of the conditioner out in COLD water. As cold as I can stand. This helps lay the cuticle down, making it appear smooth.
Sometimes I'll get out of the shower and just lean over the tub to rinse from the faucet. (Heat opens the hair cuticle, making it appear frizzy.) It's not often that I want to go through shock therapy of a hot shower then rinse off with cold water, although it does have overall health benefits!
Third:
I use an old t shirt to wring out water from my hair, and not a towel. (Towels make curly hair frizzy by rubbing the cuticle.) Keep the hair plenty wet but get it to stop dripping.
Fourth:
Once it is no longer dripping, apply the hair gel liberally. It will feel slimy, but don't worry! Use your hands to scrunch it up, "flop it" or use hair clips to place the hair up on top of your head to air dry.
Personally I start with my hair "flopped" in the old t-shirt. About 30-60 minutes later, I take it off and shake my hair out. Then I apply some more gel to the lengths of my hair. Next I take 3 hair clips and use them to lift my layers up. One on each side and on at the top of my crown area. This helps set the top layers for volume while the bottom stays long for length.
It doesn't get crunchy when it dries for me. If it does for you, just scrunch it gently to break up the product a bit.
Go about your business while it dries. If you need to make it dry faster, you can use a diffuser on the "cool" setting.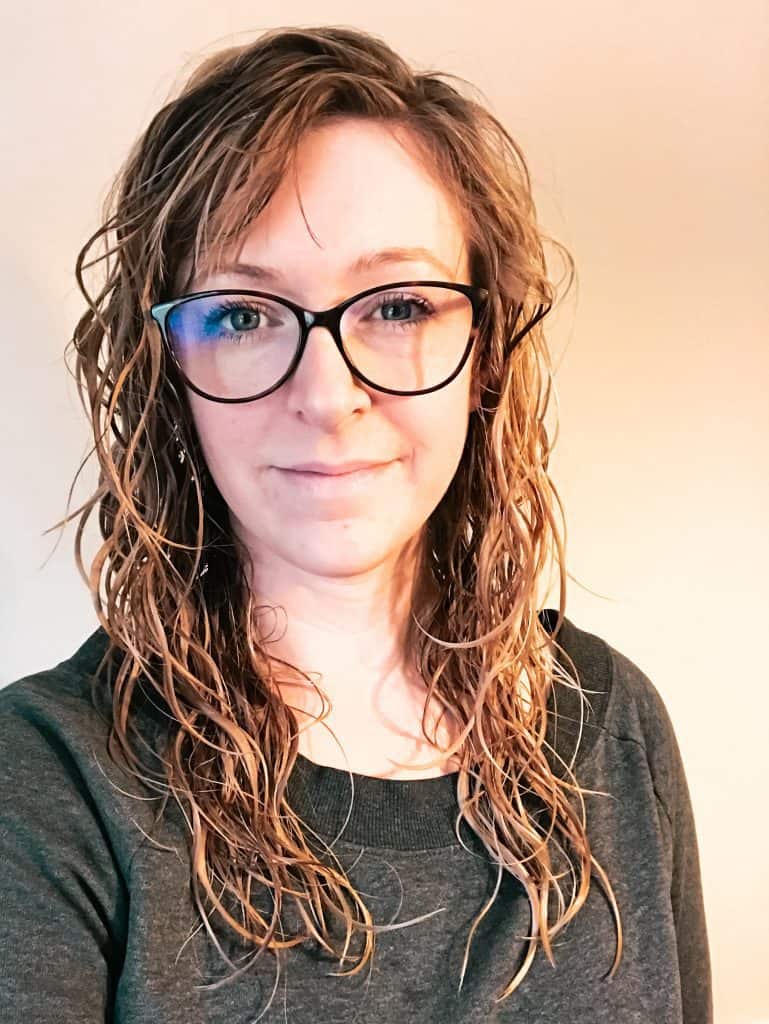 That's it! Let nature take its course to finish drying your hair.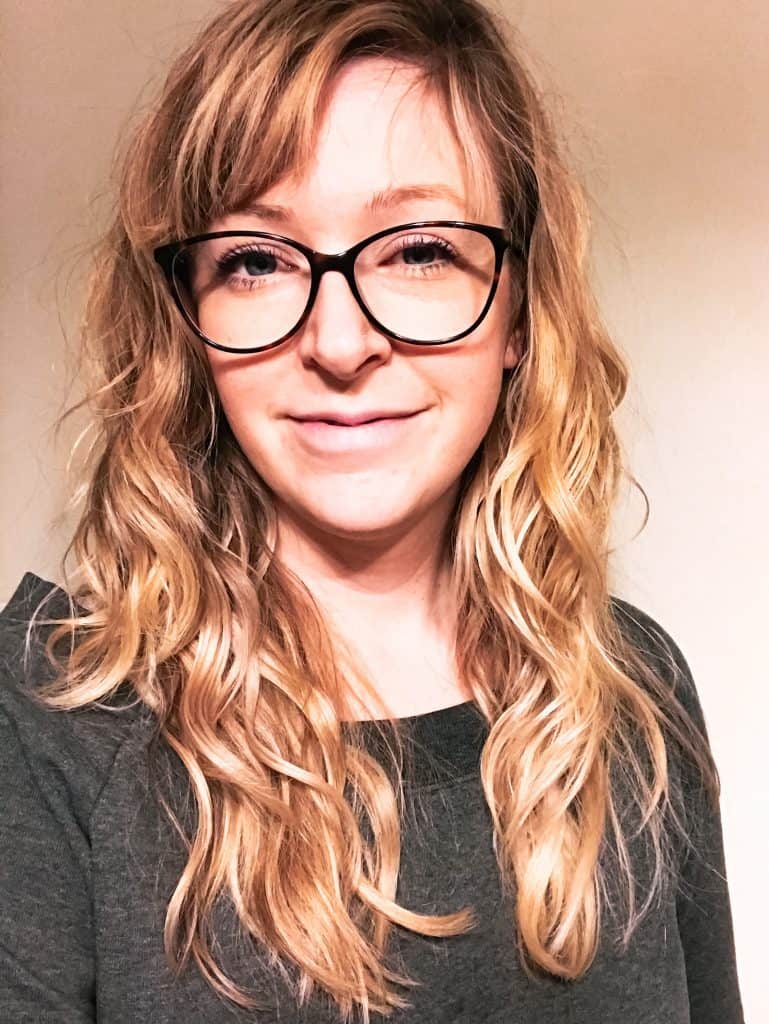 I didn't have any curl to my hair till I started having children. It's a journey to learn how to work with each individual person as hair is so unique.
If you are just starting out with the CGM, I would suggest getting a hair cut to remove any dead ends. Split ends make the overall look frizzy, no matter how much gel you use. Start out with some long layers to get volume. I actually have some fairly short layers, but I have a ton of hair so it works. Your stylist should be able to guide you on what is best for your specific length and density.
I hope this recipe for an easy homemade hair gel is helpful to the other curly girl's out there. Especially ones that are looking for toxin free options.
Let me know if you have any questions or how it works for you!
And if you are like me and love making things, be sure to check out what gifts we made for Christmas Gifts in this post.