Know my phone number and address worksheets.
Use these worksheets for a fun and easy way to teach your children these important pieces of personal information.
In our modern world of cell phones and map apps, it is too easy to take these conveniences for granted. But we as educators need to remember the importance of these simple pieces of personal information.
I like to start implementing these address printables and important phone numbers worksheets when my children are kindergarten students or in 1st grade. Of course, this can vary depending on reading and writing abilities, or other special needs. My older children still like to use them! I'm not sure if it's really just because we don't use worksheets very often or what. But they mostly like addressing the envelopes and use them to keep track of pen pal friends' addresses.
You can click on the pinnable image at the bottom of the post to receive this great resource!
Jump to the free resource here
Please note that this post may contain affiliate links. As an Amazon Associate, I may earn commissions from qualifying purchases, at no additional cost to you. Thank you for supporting our family in this way.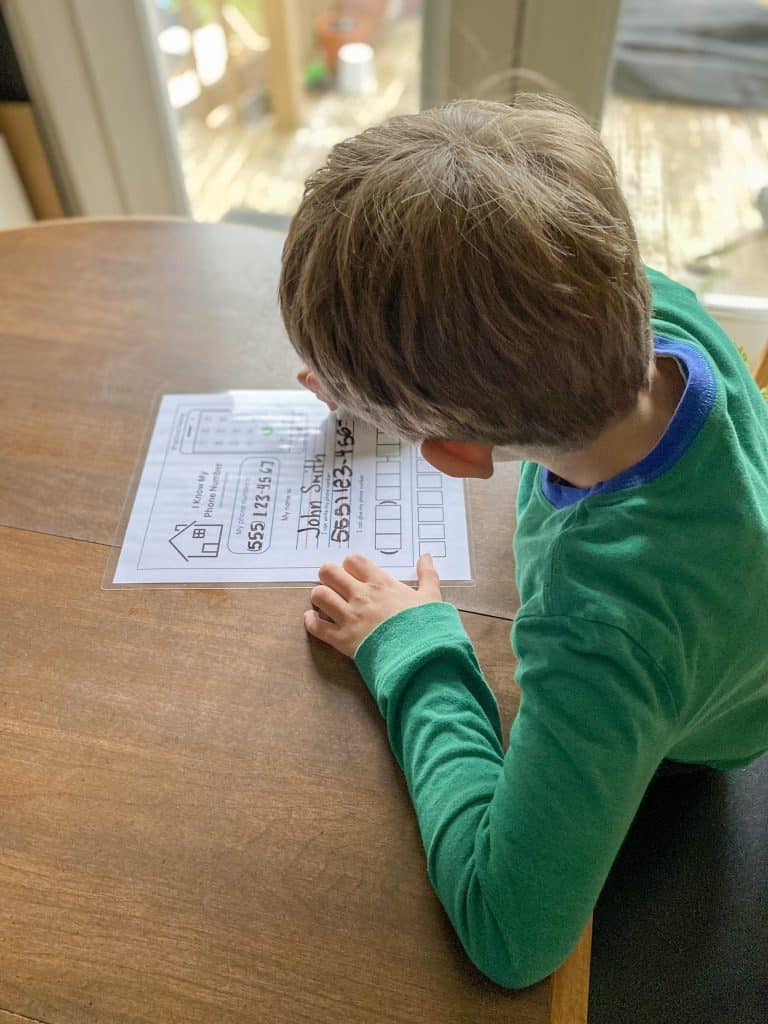 Why Use a Phone Number and Address Worksheets:
Safety: This is my number one reason these fundamentals are essential to teach our children these important skills. I hope that by using these phone numbers and address worksheets, they will be able to communicate with an emergency responder during any emergency situation.
Mail and packages: Knowing your address can be fun for sending and receiving mail from family and friends! Sending letters is almost a lost art with the replacement of emails, text messages, and social media. We may feel connected through instant digital communication, but you can feel the value of a real letter when you receive one through "snail mail".
Independence: Knowing their address can give children a sense of freedom and help them feel more confident in navigating the world around them. It gives them words to place where they are, helping them feel more equipped as they grow.
Communication: Being able to communicate with others, whether it's giving their phone number or address to a friend is an important skill. Which should not be overlooked even for young children to be able to communicate personal data to others when needed. Hopefully, they won't share this information with random strangers at the playground though, LOL.
Overall, when your children know their addresses and phone numbers it can help keep them safe, independent, and confident as they navigate the world around them.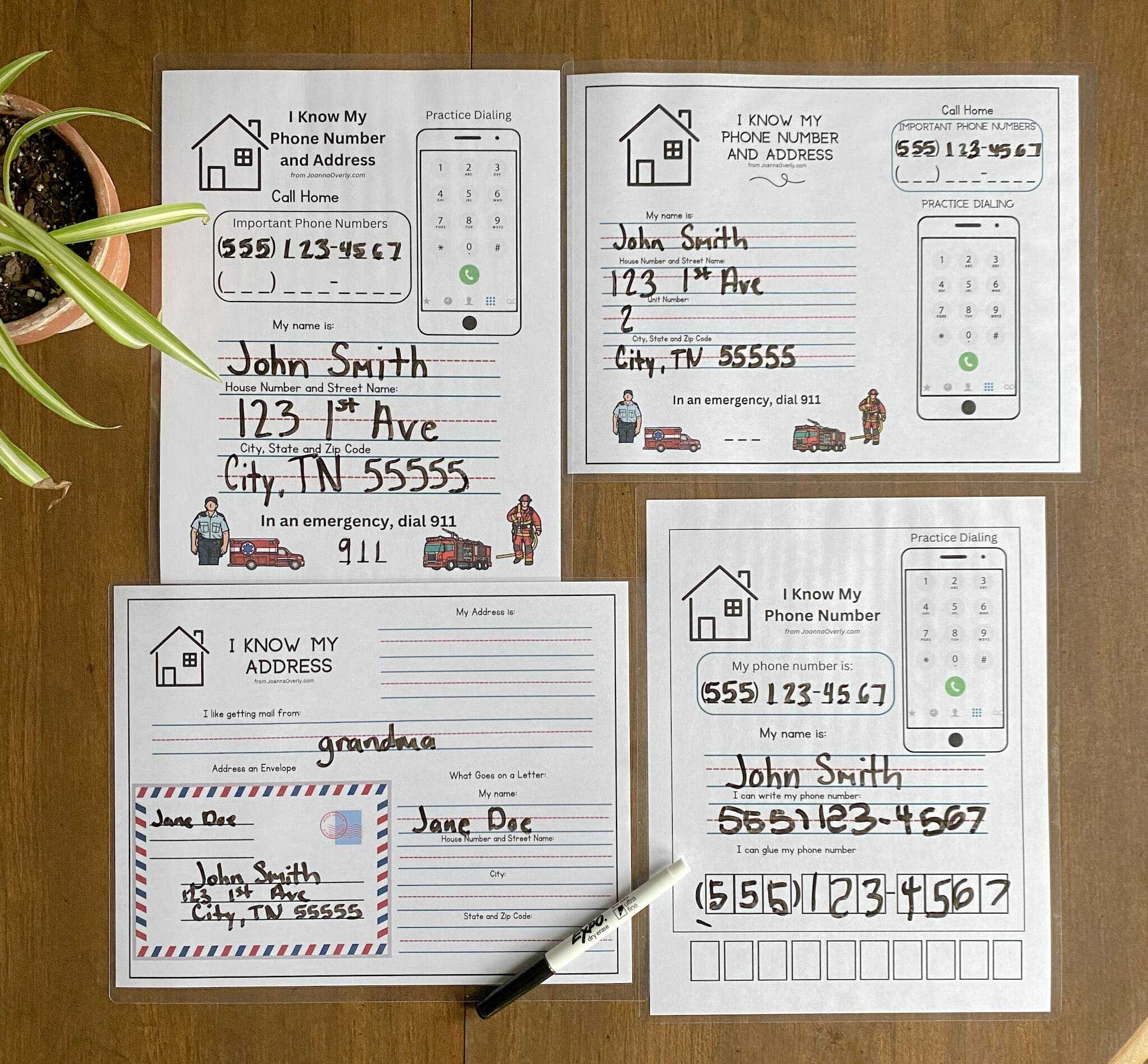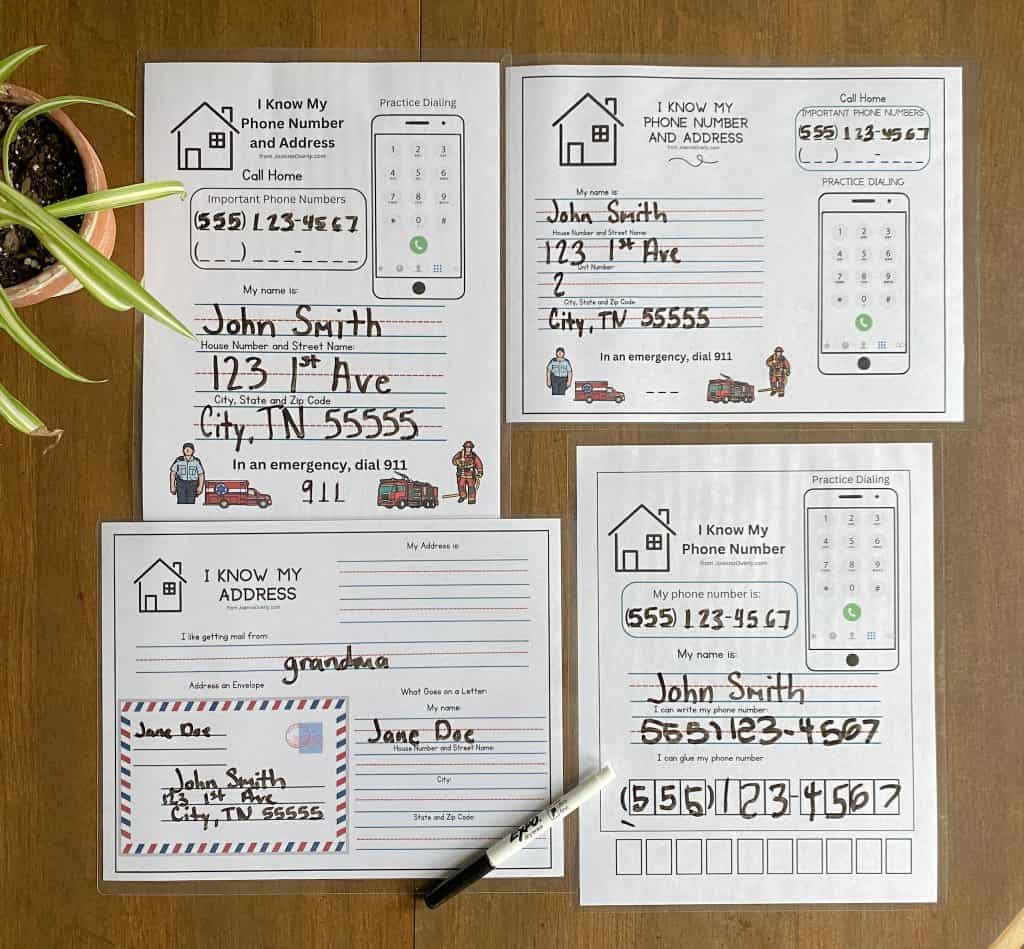 How to Use The Phone Number and Address Worksheets
I laminate the pages and we use a whiteboard marker to write on top of them. The only one I don't recommend laminating is the bottom right one that is meant to be cut and pasted onto the worksheet. (I just got carried away with my laminator for the pictured images.)
You can see the laminator I use and recommend here on Amazon. It was one of the first purchases I made when we started homeschooling. These are the laminator pouches that I use along with the laminator. This pack has lasted me since 2016! I recommend fine-tip expo markers for these worksheets. Thick markers would be frustrating for small hands to handle.
I plan these into our lesson plans as copy work, but they also can be combined into a social studies lesson.
For about a week, we do one of the first top two worksheets on a daily basis. (Depending on if the child needs a space for a unit number or not.) Once the child has mastered those ideas we move on to the full address worksheet. And if they get tired of the same worksheet for 5 days in a row, I mix in the cut-and-paste option that is pictured on the bottom right.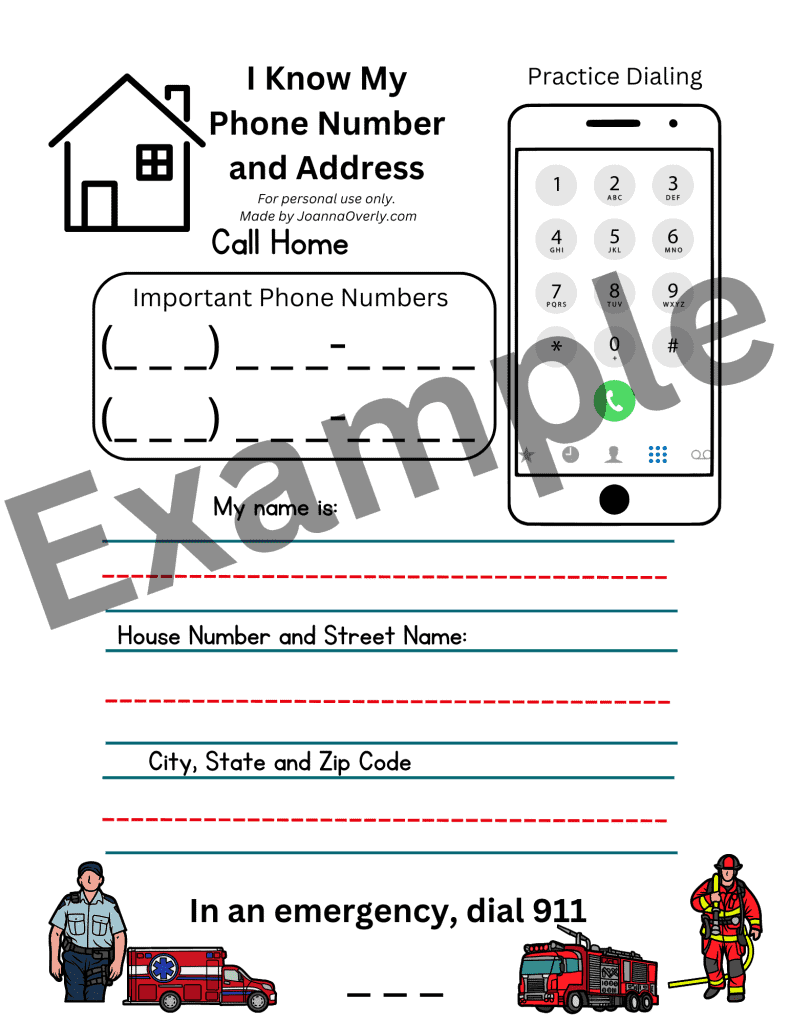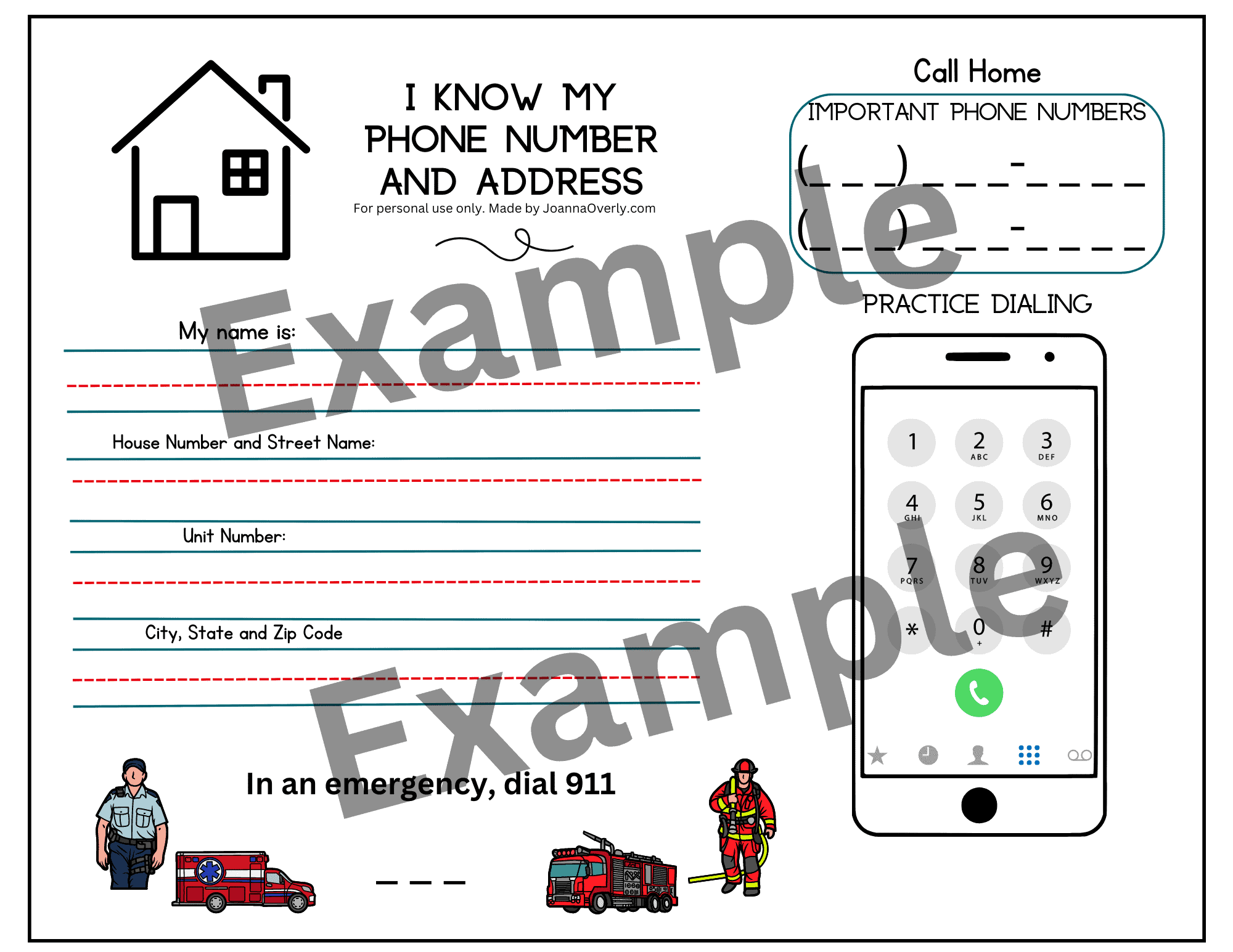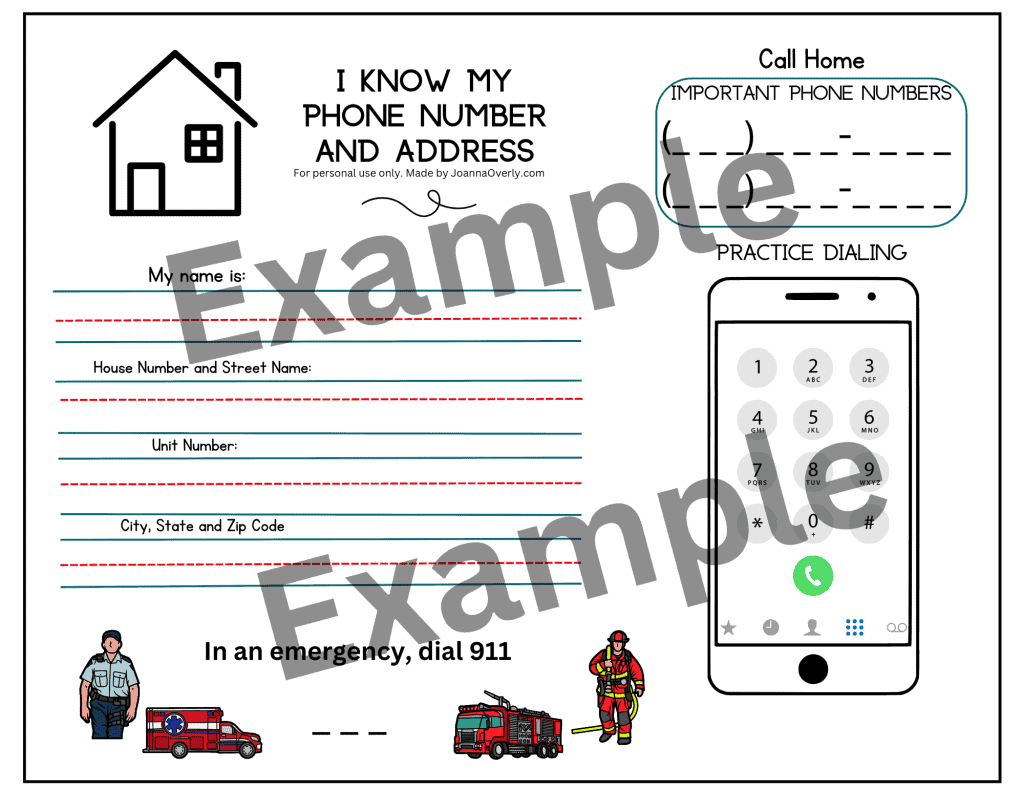 The Differences Between The Various Phone Number and Address Worksheets
The top two pictured versions are a combination of both the phone number worksheets and the address practice pages. They have spaces for the child's full name and full address. As well as includes a cell phone template to practice dialing important phone numbers, like a home phone number or 911. Since cell phones need to include the area code, there is space to also learn that too.
The first example worksheet has larger fonts for young students.
Then the second worksheet is similar but has a space for a unit number. (If the student lives in a townhouse or apartment building.)
You can either help the child fill it out the first couple of times or write down the information elsewhere and they can copy it into the worksheets. (For example: on a chalkboard or scrap piece of paper.)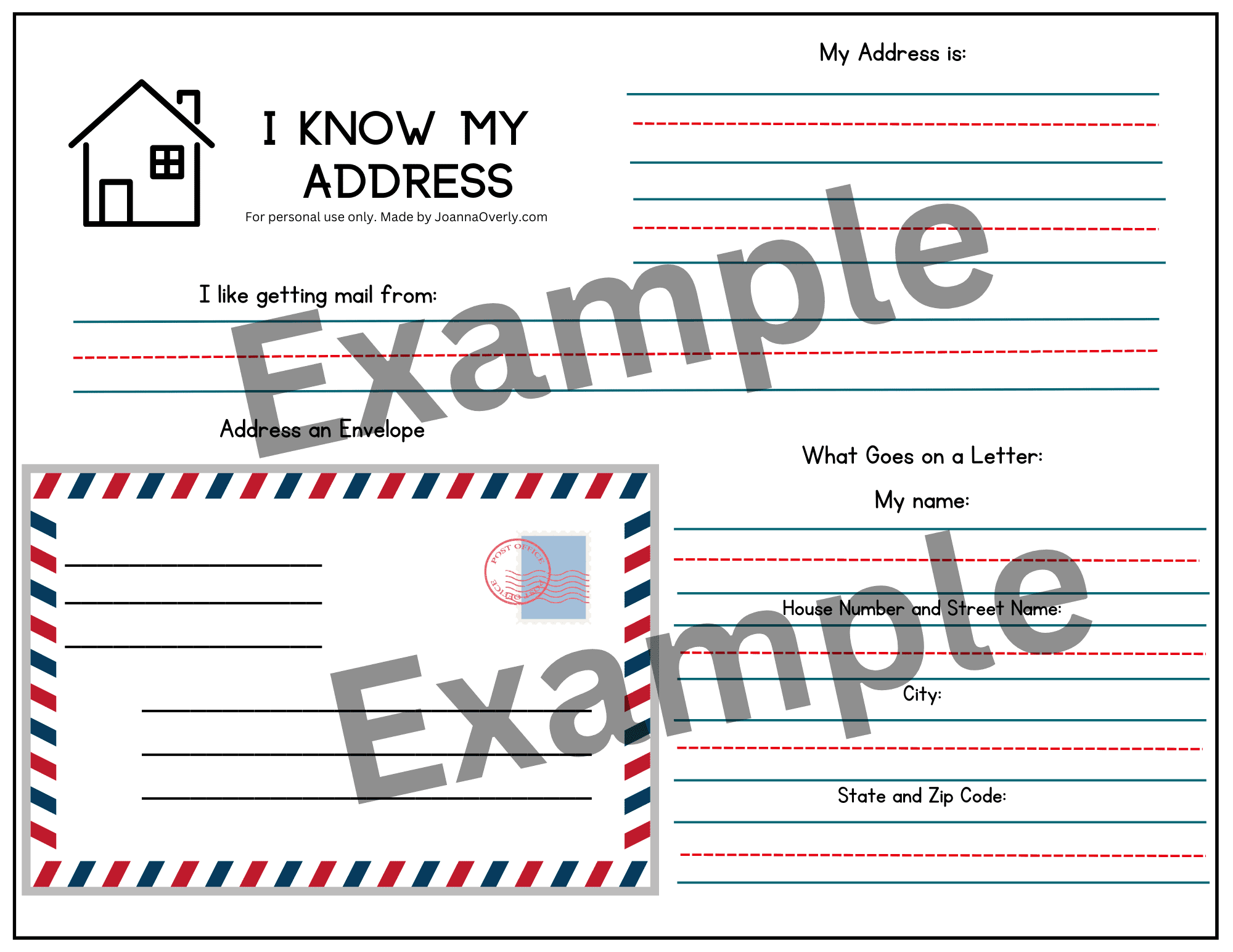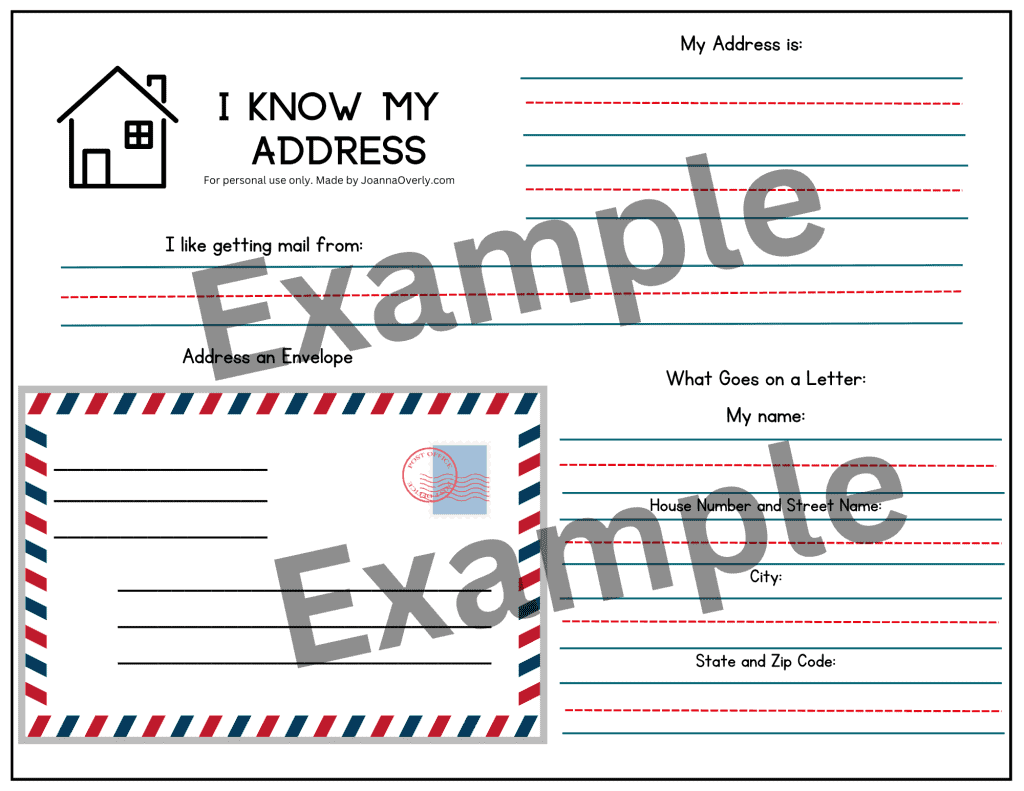 The next worksheets are an expanded version of how to interact with the new worksheets.
This one is a fun envelope template. The top right corner can be used by the parent/ guardian to fill out their address and then the student copies it into the envelope template. They can practice addressing a letter to themselves and then move on to learning how to address a letter to a friend/ family member.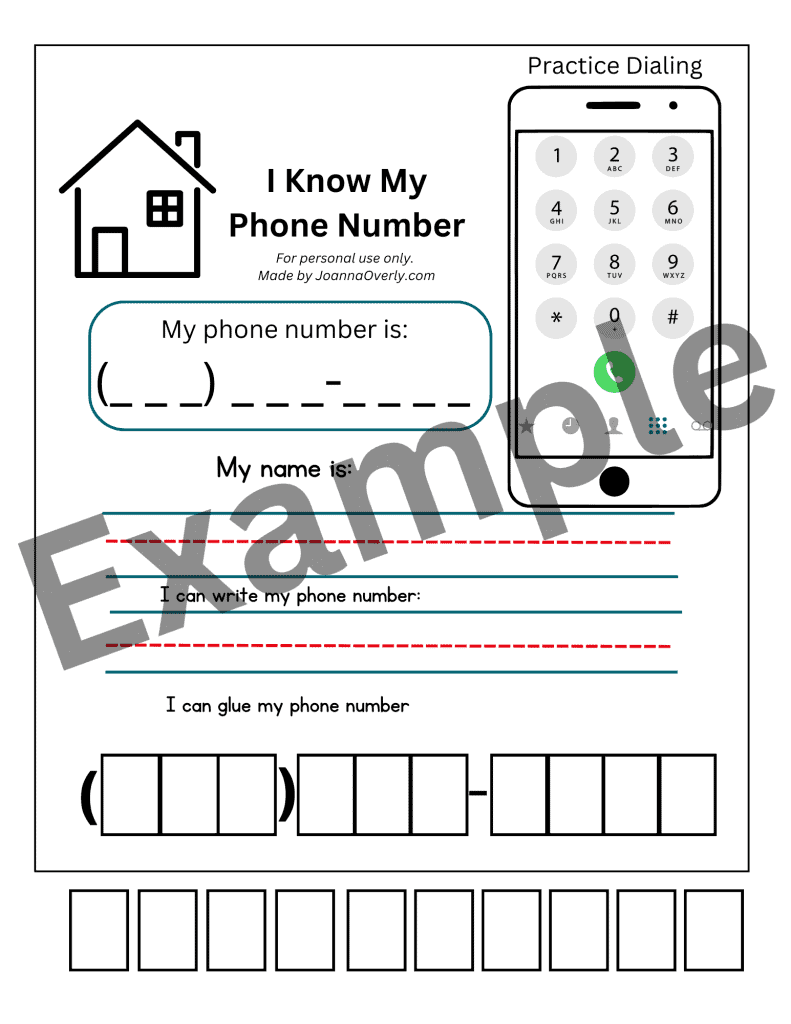 This last worksheet has a section for the child's full name and telephone number. There is also a space where you can write the individual numbers that make up their phone number in the bottom boxes. And then have the student cut and paste them into the correct order in the spaces above that to form their phone number. This option works well for kinesthetic learners. (I don't recommend laminating this page. It can be hard to cut through for young children.)
Other Ways to Use these Free Printable Worksheets
You can use the "I know my phone number and address" as an emergency contact page on the refrigerator. That way if there ever is an emergency and a babysitter is over, they can easily see what the address is. You could also use the "important phone numbers" section to list a few other emergency contact numbers.
If you move locations, print off some more worksheets to help your children become familiar with the new address.
I hope these worksheets help you teach your children these important life skills! If you would like to check out other homeschooling printables I have made, you can see some other posts here.
Homeschool Morning Time Menus with Free Printables
Nature Journaling Supplies: What You Need in Your Bag Now
How to Schedule Ambleside Online: How to Make it Work
Click the image above to grab the digital file for your free worksheets! If you can't find the email to download them, check your "junk" or "promotions" folder.
Terms of Use: These digital files are for personal use only and are copyrighted © 2023. If you would like to link to my post or use my photos, in a homeschool or related type round-up, please contact me first for permission at Joanna@joannaoverly.com.