100 Best Grocery Store Gluten Free Dairy Free Snacks
Are you a family like us? Do you have a few different health things going on and need some ideas for quick gluten-free and dairy-free snacks? Because I feel you.
Having gluten sensitivity myself and mama to four kids, one of who has Celiac disease, we have to have some snack options. As well as making sure these options taste good for people with food allergies!
My aunt has dealt with Celiac disease for many, many years now. (Including having to be on a dairy-free diet as well.) She has shared with me how hard it was early on to find options that were safe for her. However, many local grocery stores have at least a few gluten-free (GF) and dairy-free (DF) options now.
Gluten Free Dairy Free Snack Options at the Grocery Store
Some healthy snacks that are easy to find at the grocery store are fresh fruit, fresh vegetables, as well as packaged varieties. Gluten-free dairy-free crackers with dip or nuts/ trail mix can even keep picky eaters happy. If that seems too limiting, I'll cover even more ideas below with exact links for the perfect snack.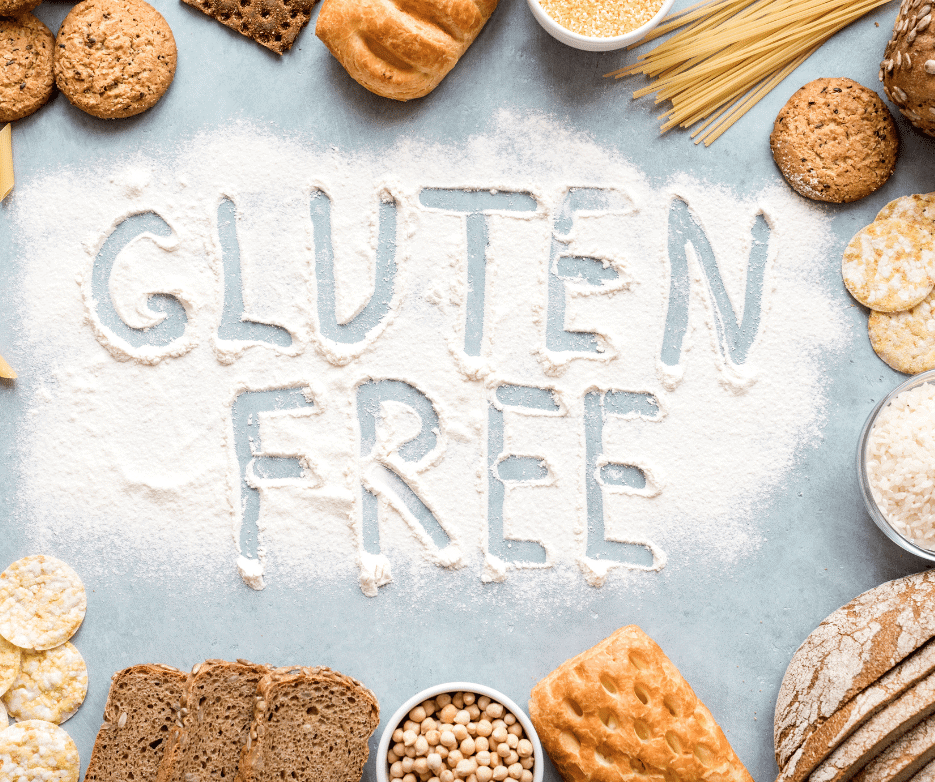 Shopping for People with Food Allergies
If you're wondering what makes food gluten-free, check out what the Mayo Clinic says here. Or to learn more about dairy-free diets check out this post for a dairy-free diet guide.
Please note that this post may contain affiliate links. As an Amazon Associate, I may earn commissions from qualifying purchases, at no additional cost to you. Thank you for supporting our family in this way.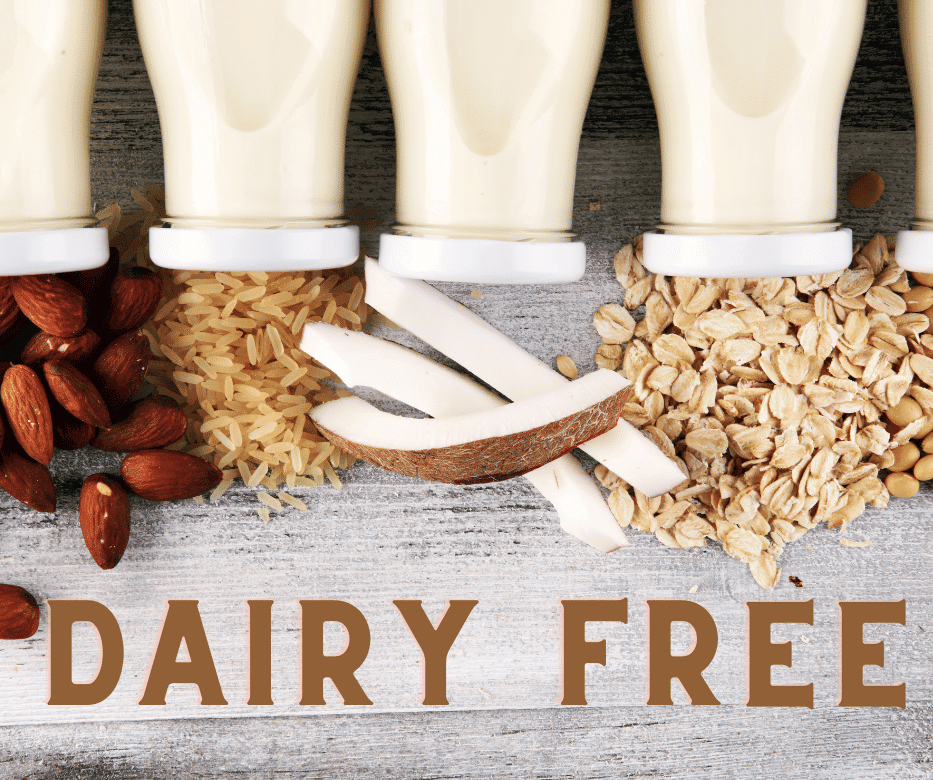 Disclaimer: It is CRITICALLY IMPORTANT that you double-check labels when choosing gluten-free dairy-free snacks from this list.
This is not medical advice. Therefore, please always consult your doctor or medical professional.
Make sure to read the actual labels. Manufacturers can make changes to ingredients over time. I would hate to have you deal with issues due to changes or cross-contamination. It is always a best practice to double-check nutrition labels.
I know "healthy" can be a subjective word. What I may consider healthy may not be 100% perfect for you, and that's ok for us to see differently on some things. I just hope this list can be helpful to you.
There may be other allergens you need to stay away from that are on this list. Like I said earlier, please read the food label and follow the advice of your healthcare provider. When my daughter got her official Celiac diagnosis, a nutritionist came and explained what a gluten-free diet entails. I hope you have also gotten clear instructions for your family.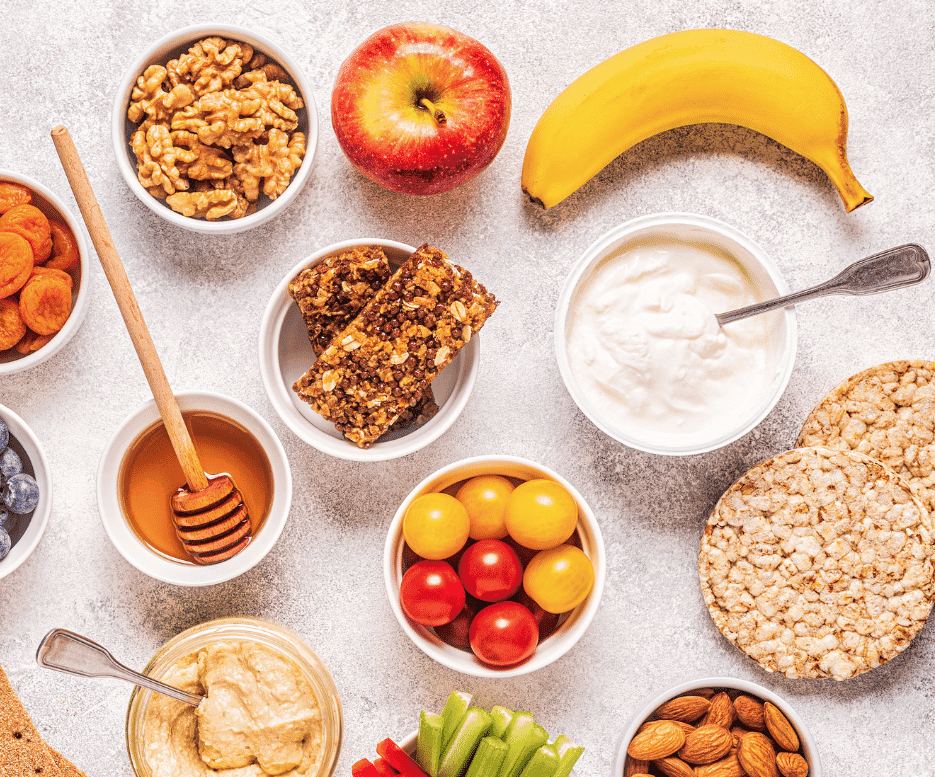 What snacks can I eat on a gluten-free dairy-free diet?
Click these titles to jump to different sections.
Gluten-Free Dairy-Free Fruit and Vegetables
Gluten-Free Dairy-Free Crackers
Dairy-Free Gluten-Free Chips and Pretzels
Gluten-Free Dairy-Free Dips and Sauces
Gluten-Free Dairy-Free Energy Bars or Protein Bars
Freshly Made Gluten Free Dairy Free Smoothies or Smoothie Bowls
Gluten-Free and Dairy-Free Popcorn
Dairy-Free and Gluten-Free Trail Mix + Nuts
Gluten-Free and Dairy-Free Chocolate or Sweet Snacks
Dairy-Free Gluten-Free Yogurt Alternatives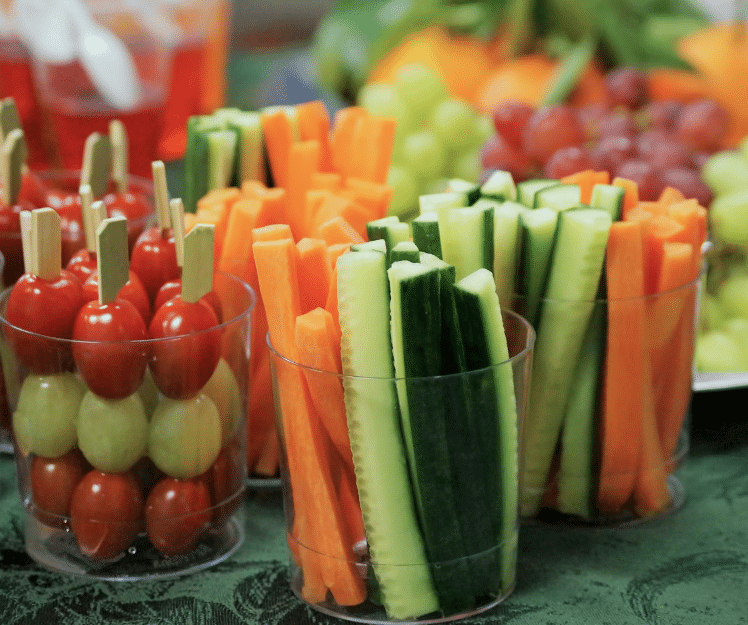 Fresh Fruit and Vegetables
All fresh fruit and vegetables are naturally gluten-free and dairy-free, which makes them great healthy snack ideas.
Some of our favorites are:
Fruit: Apples, berries, grapes, bananas, mandarins/ oranges are easy for on the go.
Dipping fruit into some almond butter or other nut butter can be a great snack.
Veggies: Cucumbers, carrots, peppers, green beans, broccoli, cherry tomatoes. We like to dip veggies in hummus.
Prepared Fruit And Vegetables
Dried fruit: Pineapple, dried raisins, mango, and dried cranberries are some of our favorite dried fruit to snack on.
Or here is a basic recipe for how to make your own fruit leathers. We use a food dehydrator when making ours, but they can also be made in the oven. Making homemade food is a great way to reduce added sugars from things like fruit snacks.
Some more options are: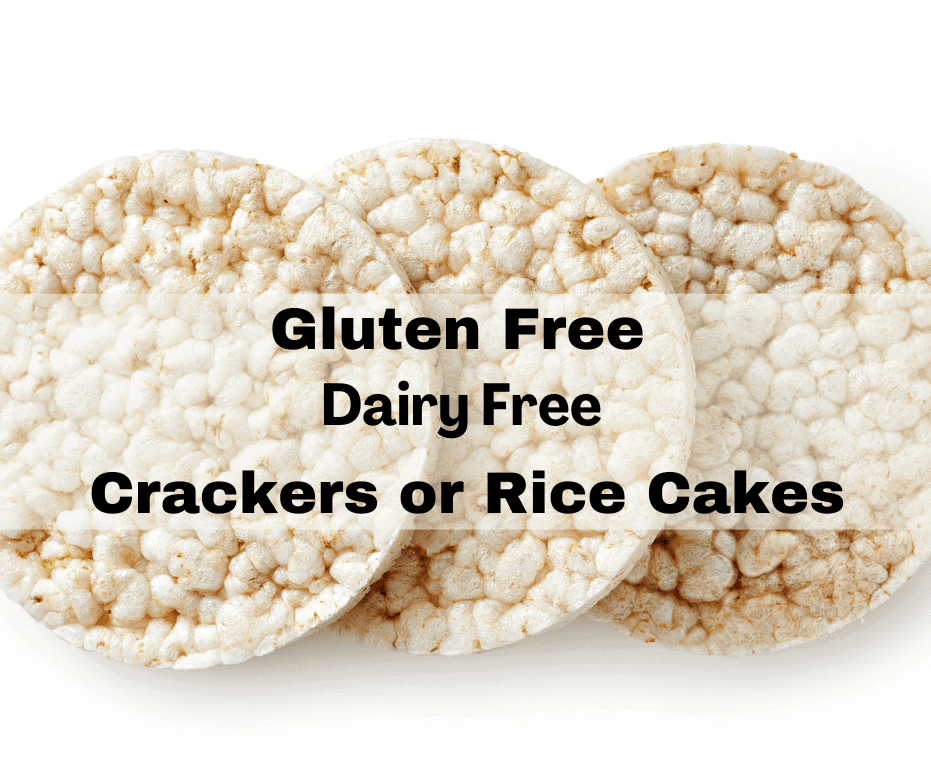 Gluten-Free and Dairy-Free Crackers or Rice Cakes
There is a wide variety of gluten-free dairy-free safe crackers.
Gluten Free Dairy Free Crackers:
Schar – Table Crackers are also delicious and remind me of eating a bowl of soup with soda crackers. (The linked price is pretty outrageous, but I'll share it anyway so you can see what to look for on the shelf of your local grocery store.)
Gluten-Free Dairy-Free Grahm Crackers:
Schar – Honeygrams: Our favorite type of GF DF graham cracker, I have found them at Walmart.
Kinnikinnick S'moreables: This brand's graham crackers are very thick. Not great for smores in my experience but good for making a pie crust.
Rice Crackers:
Tropical Fields Organic Crispy Coconut Rolls. Now this one isn't technically a rice cake but the crunchy rollers reminded me of them, and they are sooooo good. If you shop at Costco, they are usually there for a better price.
We enjoy gluten-free dairy-free crackers or rice cakes with guacamole (here is a recipe, homemade is the best in my opinion), hummus, or nut butter.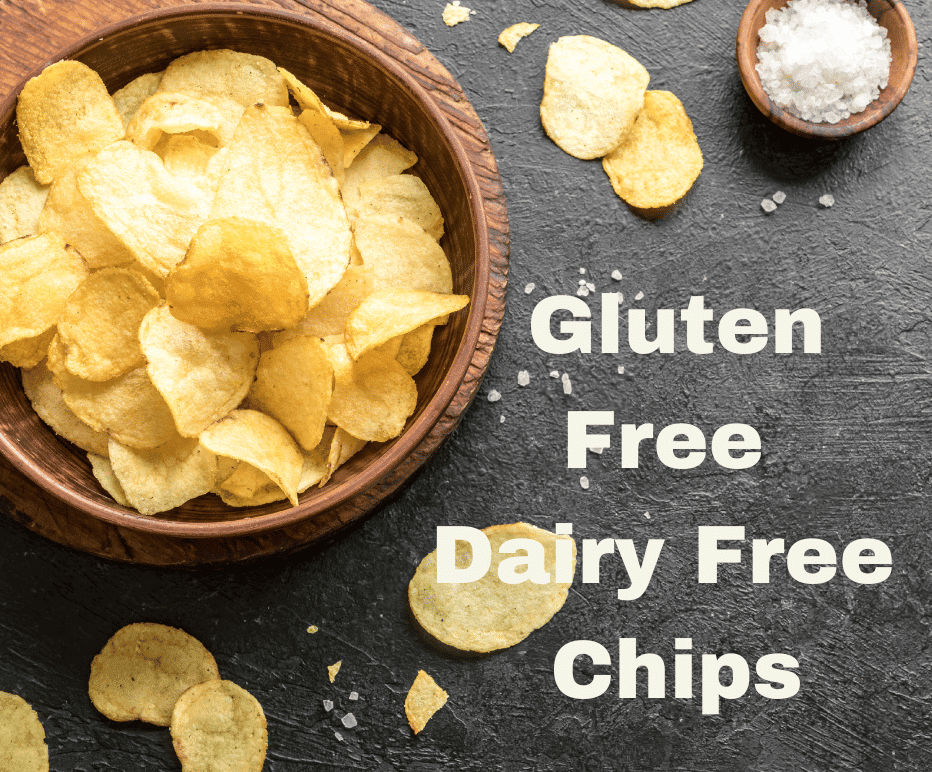 Gluten-free and Dairy-Free Chips or Rice Chips and Pretzels
Tortilla Chips:
Speaking of Seite, please find these!
Siete Grain Free Cinnamon Churro Strips are delicious snacks. They are made with cassava flour, avocado oil, coconut sugar, agave syrup, pumpkin powder, cinnamon, psyllium husk powder, sea salt, and vanilla powder.
Potato Chips:
Kettle Brand Potato Chips Our family prefers the great crunch of a kettle-type potato chip.
They are certified GF and the packaging makes no mention of being made on shared equipment with dairy products. If you would like to verify with them, you can reach out to their customer service.
Some other flavors are:
Many other brands of original flavors or even some different flavors of chips are also gluten-free and dairy-free, for example, Lay's Classic Potato Chips doesn't have any problematic ingredients in their ingredient list. But if I listed every option possible, this post would be annoying to read.
Rice Chips:
Sweet Potato Chips:
Whenever I think of sweet potatoes, I think of garlic aioli. I usually make some from scratch but here is a good brand. Primal Kitchen Garlic Aioli Mayo made with Avocado Oil
Puffs:
Pretzels:
Synder's also has pretzel sticks and pretzel rods. (The pretzel rods can be used to make an alternative to a gingerbread house by making a Christmas log cabin!)
Glutino makes pretzel sticks too as well as has snack packs for easy school lunch packing.
I haven't personally tried these but friends have and like them. It's always nice to have a grain-free and nut-free option too.
Quinn has gluten-free dairy-free pretzels that have many flavors including a
(Please note that not every flavor is dairy free. But this variety pack of snack packs is listed as dairy free as well as gluten-free.)
Plantain Chips:
I usually get the Trader Joe brand of plantain chips but when writing this post, I came across these from Amazon Prime.
Side note, I provide links for you to check out the ingredient list yourself. As well as for you to know what to look for on the shelf of your local grocery store. I personally don't often order chips from Amazon because the prices can really high. I like to shop around for the best price so I encourage you to do the same.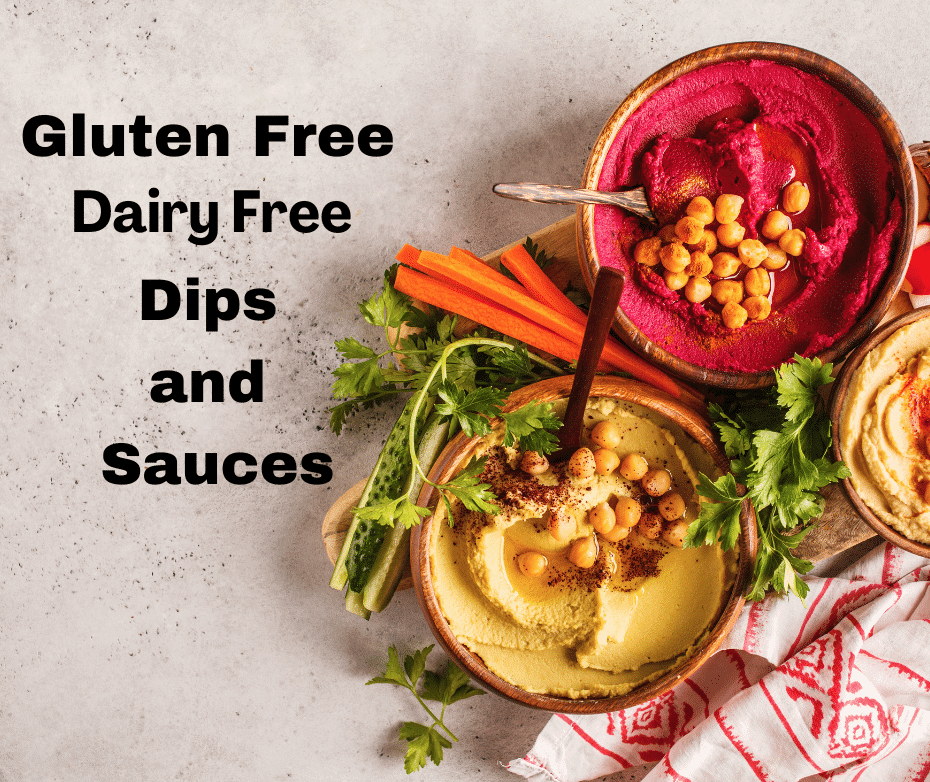 Gluten Free Dairy Free Dip and Sauces
Now that we have talked about chips I can't help but think of dips.
Hummus: There are so many brands and varieties!
I really haven't met a hummus I don't like but if you can find the time, making it homemade takes it up a couple of flavor notches!
Salsa:
There are lots of different varieties and flavors when it comes to salsa. Check out your local farmers market when they are in season and grab a jar of locally made salsa, I'm sure you'll be pleased!
It goes great with Mexican dishes too. We tend to eat a lot of Mexican/Tex-Mex homemade recipes. For example, this Instant Pot Mexican Chicken is so simple for a busy weeknight.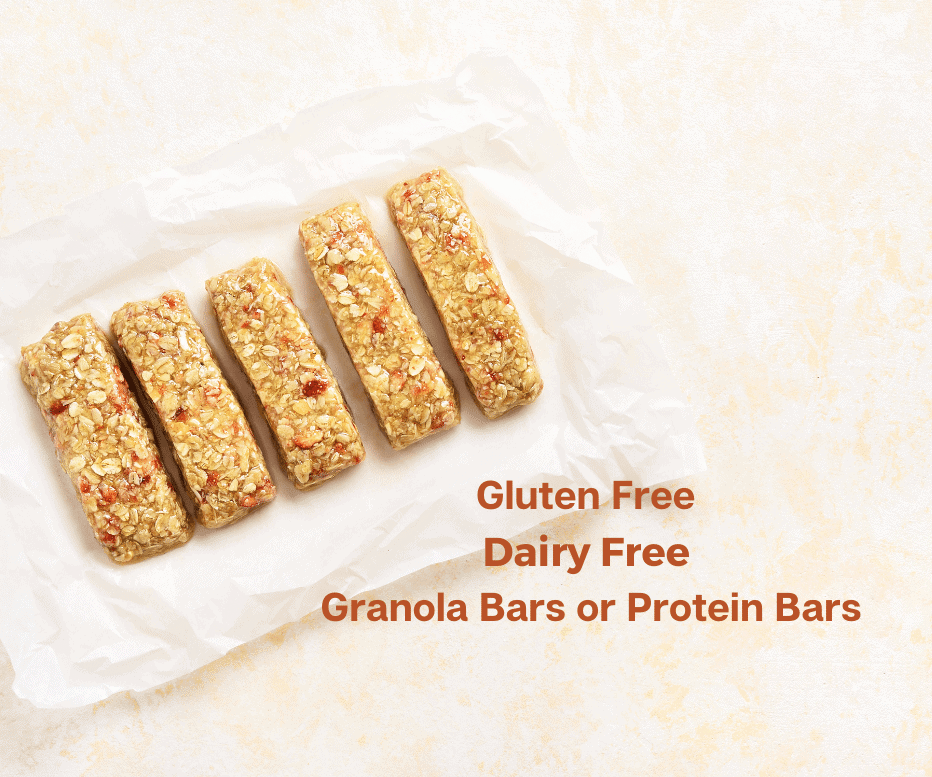 Gluten-Free Dairy-Free Energy Bars or Protein Bars
Larabar has a wide of gluten-free and vegan flavors.
These three are some of my favorite Larabars.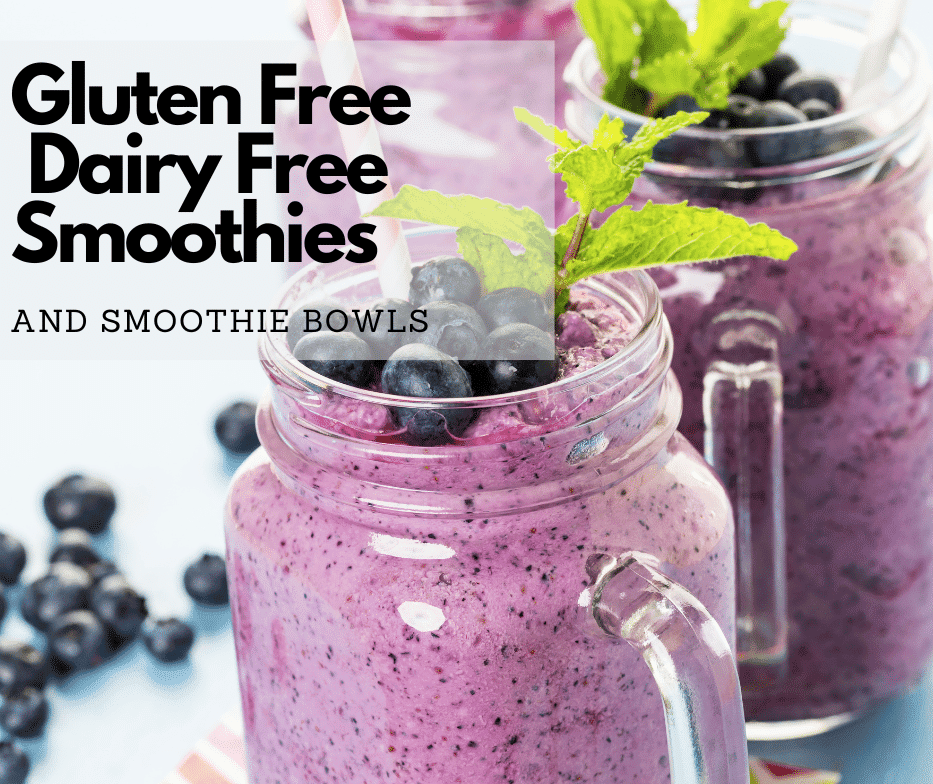 Freshly Made Gluten Free Dairy Free Smoothies or Smoothie Bowls
It is hard to share links to grocery store options for smoothie packs, since they need to be frozen to transport. But be on the look out for these options or similar choices.
Basically you need some frozen fruit, (maybe some greens or vegetables) dairy-free milk of your choice (or water), and a good blender.
If you want some smoothie recipes to make at home, this post should have you covered!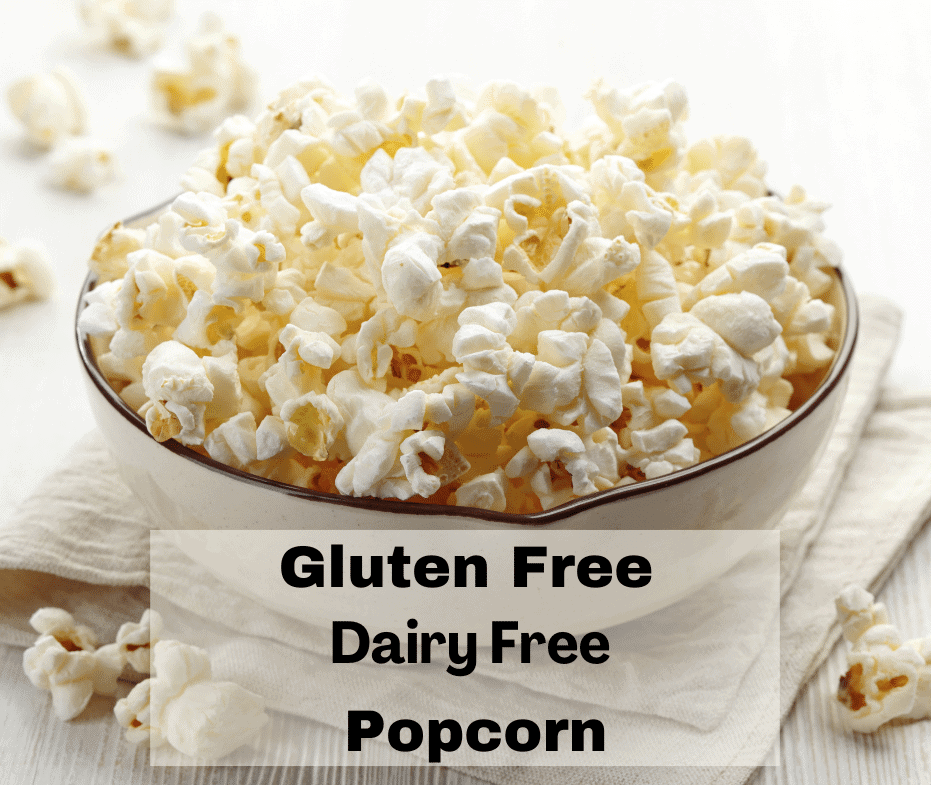 Gluten-Free and Dairy-Free Popcorn
Popcorn is a great option for gluten-free snacks. It is a whole grain and naturally gluten-free. And depending on your topping, you can make it dairy free.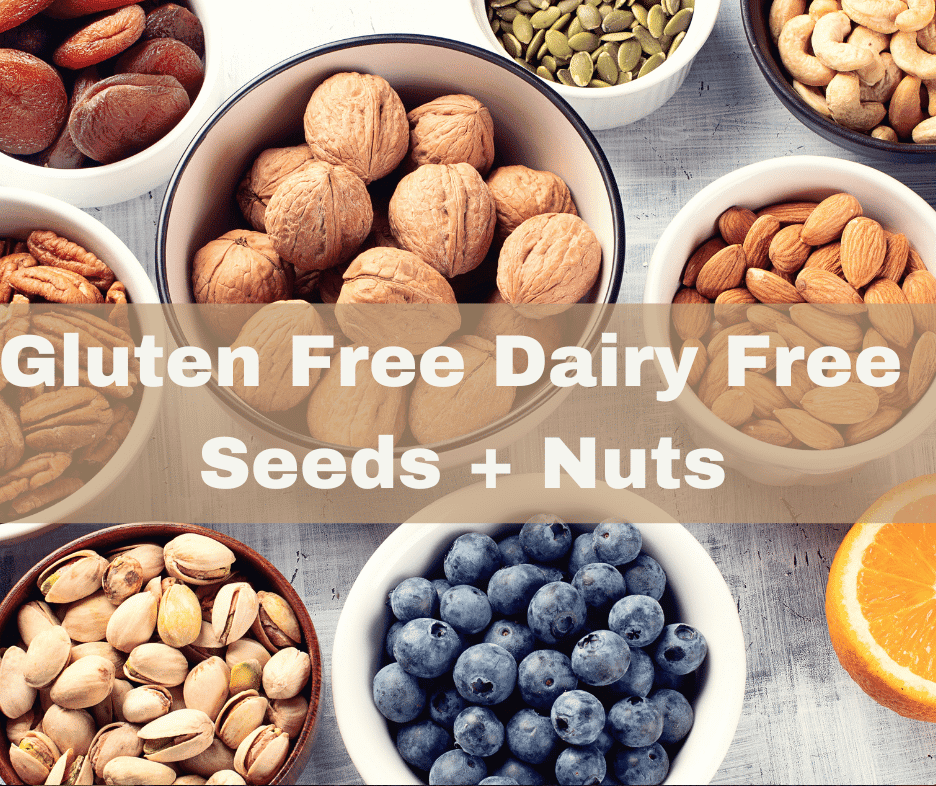 Gluten-Free and Dairy-Free Trail Mix + Nuts
Trail Mix
Nuts and Seeds
Nuts and seeds are naturally gluten and dairy free but you'll want to check the nutrition label for any cross-contamination from the production of the product.
If you can get them whole and use a nutcracker, there is less chance that they have gone rancid in the packaging.
Some of our favorite nuts and seeds are:
Flavored Nuts and Mix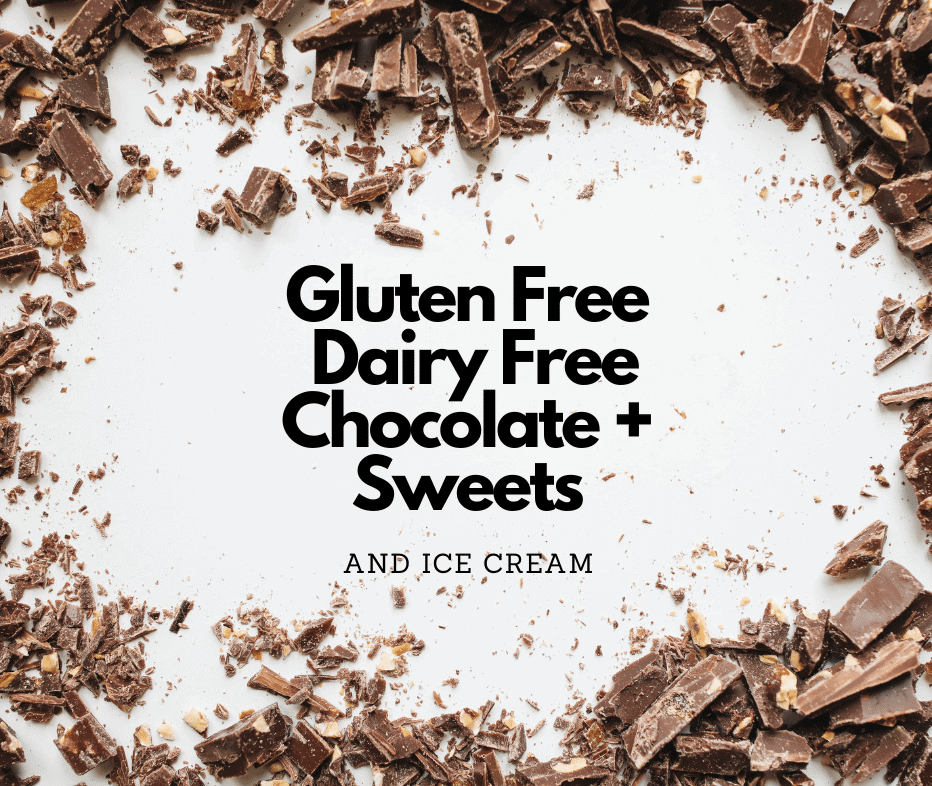 Gluten-Free and Dairy-Free Chocolate or Sweet Snacks
Gluten-Free Dairy-Free Sweet Snacks for the Sweet Tooth
Dairy Free and Gluten Free Donuts and Cupcakes
And because I know this is a common question:
Are Oreos gluten-free?
Regular Oreos are not gluten-free but they do make a gluten-free version that is also dairy-free. You can find them here on Amazon.
(Oreos don't contain dairy in the regular or gluten-free versions.)
Dairy-Free Gluten-Free Cookies
Dairy-Free Gluten-Free Ice Cream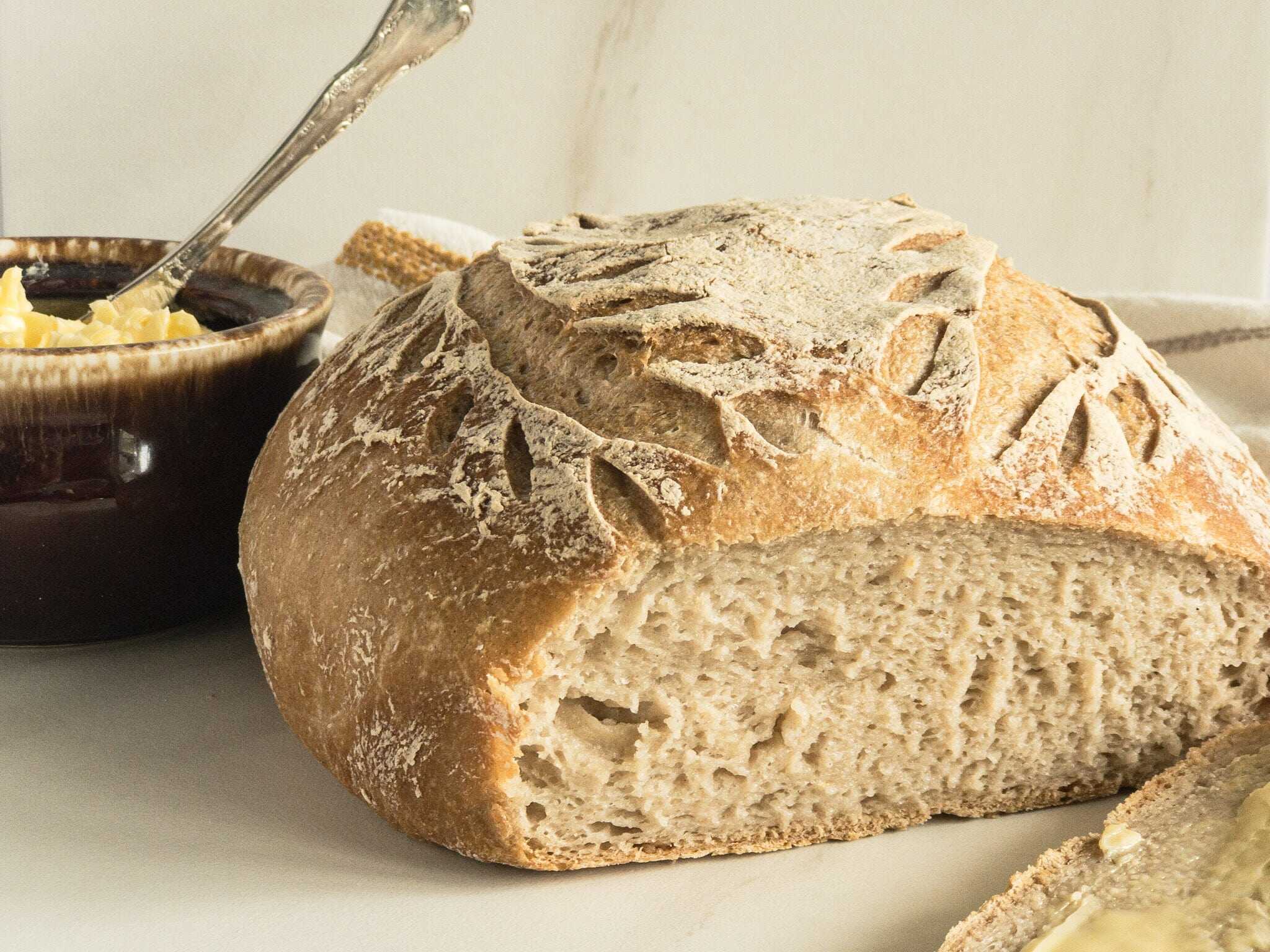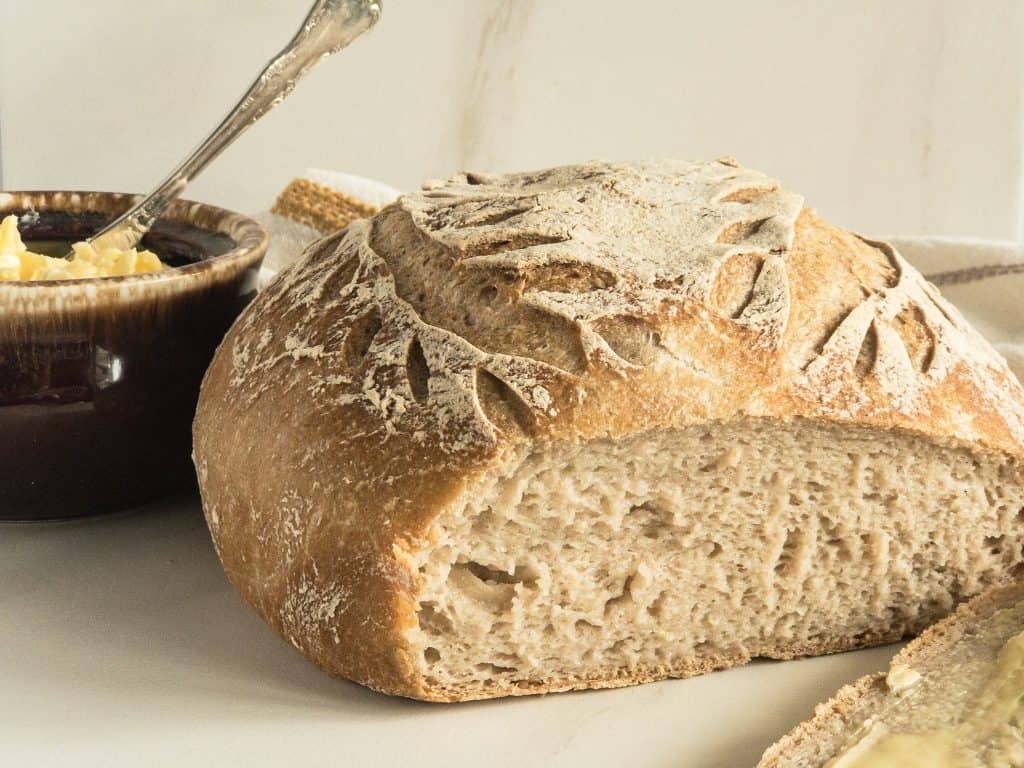 Gluten-Free Dairy-Free Bread
Bread with different jams or spreads can make a great healthy snack.
The best gluten-free dairy-free bread (IMO) is Schar.
I also make gluten-free dairy-free sourdough bread with King Arthur Flour here! (As pictured above.)
Dairy-Free Gluten-Free Yogurt Alternatives
The above-listed yogurt alternatives are linked through Amazon to Whole Foods delivery. I always suggest shopping around locally but give links so you can check the nutrition label and see what the product looks like.
What are your favorite gluten-free dairy-free snacks?
Is there something I missed that is totally worth sharing? I'd love for you to comment below to help others who are looking for ideas!