The Best Cilantro Lime Crema Sauce For Tacos.
This recipe really is the best cilantro-lime crema sauce. A creamy sauce full of simple ingredients: fresh cilantro, accompanied by lime juice, garlic, and onions is super delicious. Control the heat depending on how much jalapeno you want to add in.
You may have stumbled upon this recipe for tacos, but really it is great on anything. Yes of course it's fantastic on Mexican food like fish tacos, taco salad, or burrito bowls. But this can be used in many different ways!
It's such a delicious sauce that you can use it as a salad dressing, or even dipping sauce for french fries. I use it on eggs at breakfast, spread on a sandwich for lunch, or on a steak at dinner. It's so good!
A simple and easy dinner tonight would be to serve this over some Easy Instant Pot Mexican Chicken tacos.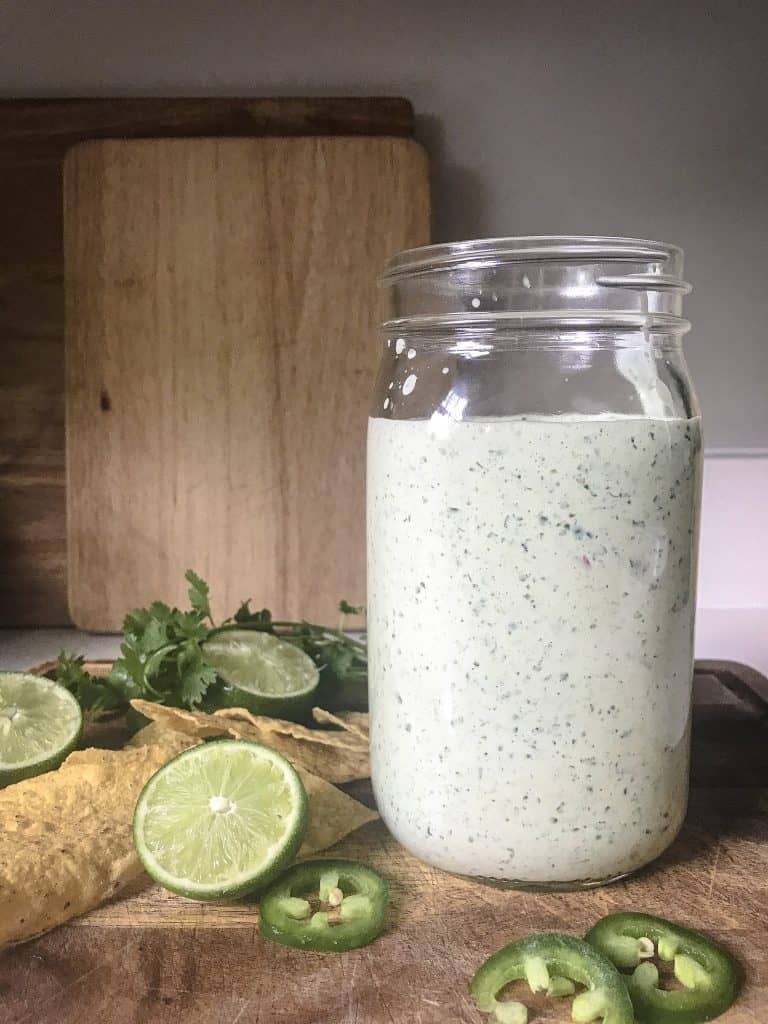 Please note that this post may contain affiliate links. As an Amazon Associate, I may earn commissions from qualifying purchases, at no additional cost to you. Thank you for supporting our family in this way.
This sauce comes together quickly with a food processor or blender. But even if you don't have a food processor in your kitchen, the flavors are worth dicing and chopping by hand if necessary. I came across this recipe at least 6 years ago, and it has evolved with our family over time.
Equipment Needed to Make This Creamy Cilantro Lime Sauce
You'll need either a food processor or an immersion blender. Even if you don't have one of those, it would be worth dicing everything and mixing it up by hand.
These are what is in my kitchen:
KitchenAid Food Processor, 7 Cup
KitchenAid Variable Speed Corded Hand Blender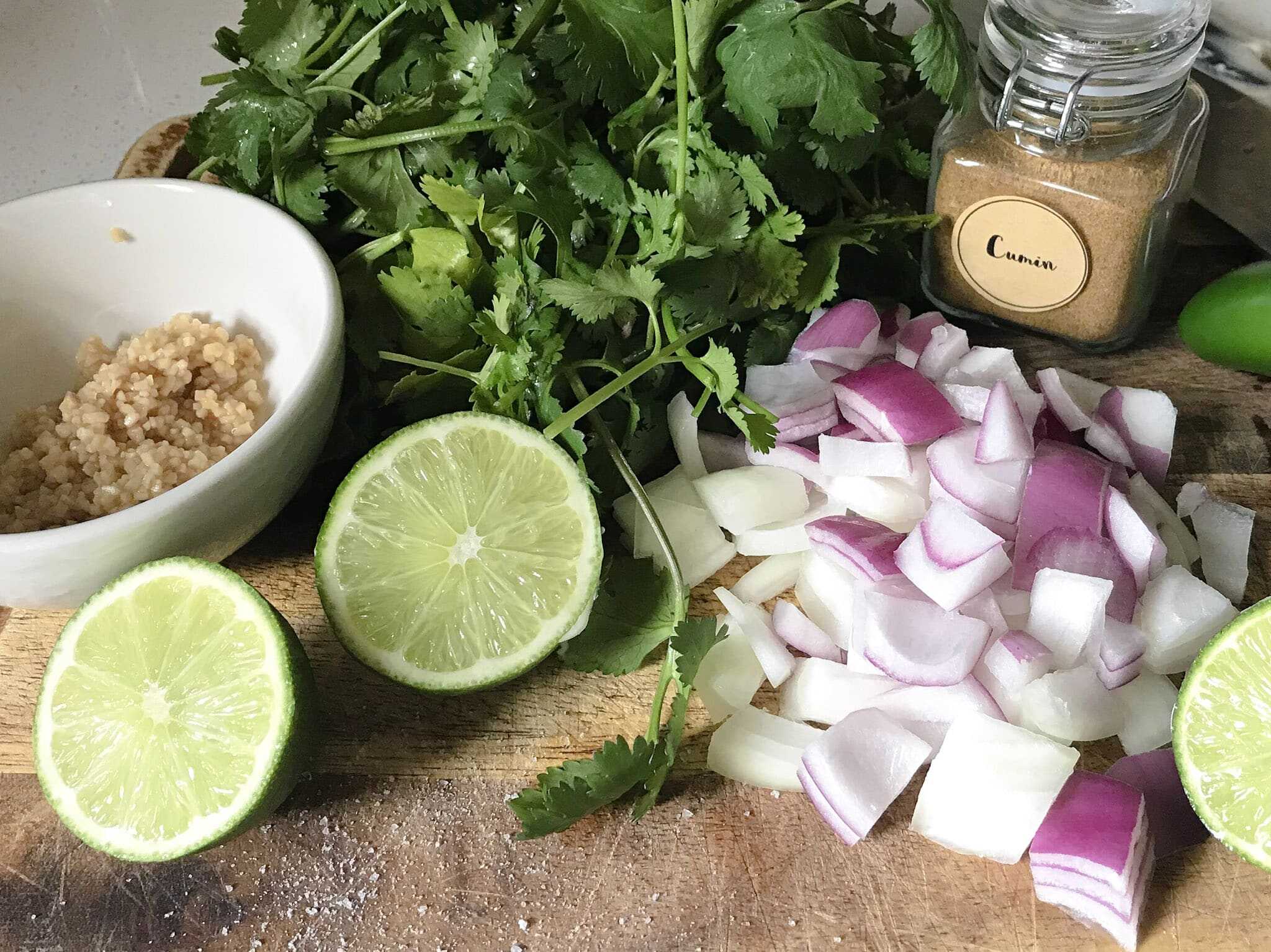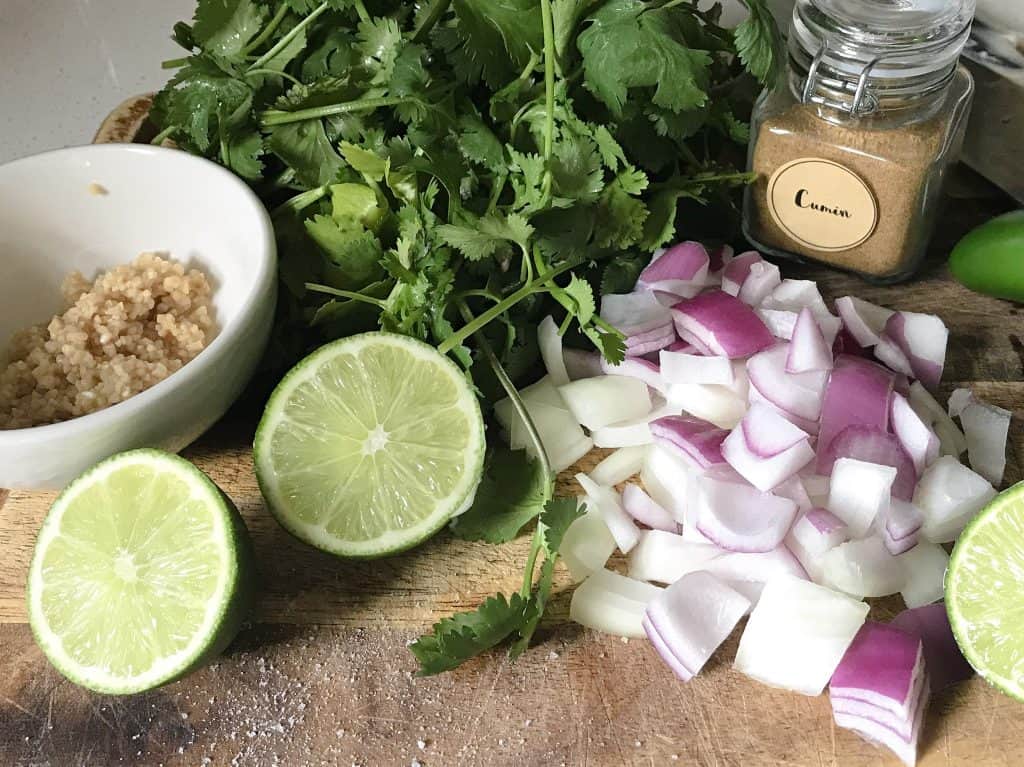 Ingredients to Make The Best Cilantro Lime Crema Sauce
This flavorful sauce comes together easily with a handful of ingredients. Make sure to be choosing good quality, fresh ingredients at your local grocery stores or farmers' market to get the best outcome from this cilantro lime sauce recipe.
1 cup mayo
1 cup sour cream (plain greek yogurt can be substituted as well)
Juice of 1 1/2- 2 limes
1 1/2 tops of fresh cilantro bundles (I focus on using mostly the cilantro leaves and not lots of the stems.)
1 deseeded, jalapeño pepper, diced. (Adjust to taste) You can also substitute with serrano peppers if you prefer.
3/4 cup diced onion (red onions, yellow onion, or white onion all work well. Green onions are not suggested.)
1 1/2 tablespoons minced fresh garlic
1 teaspoon cumin
Salt and pepper to taste
Place all ingredients into the food processor and pulse till a creamy consistency has been achieved without large chunks.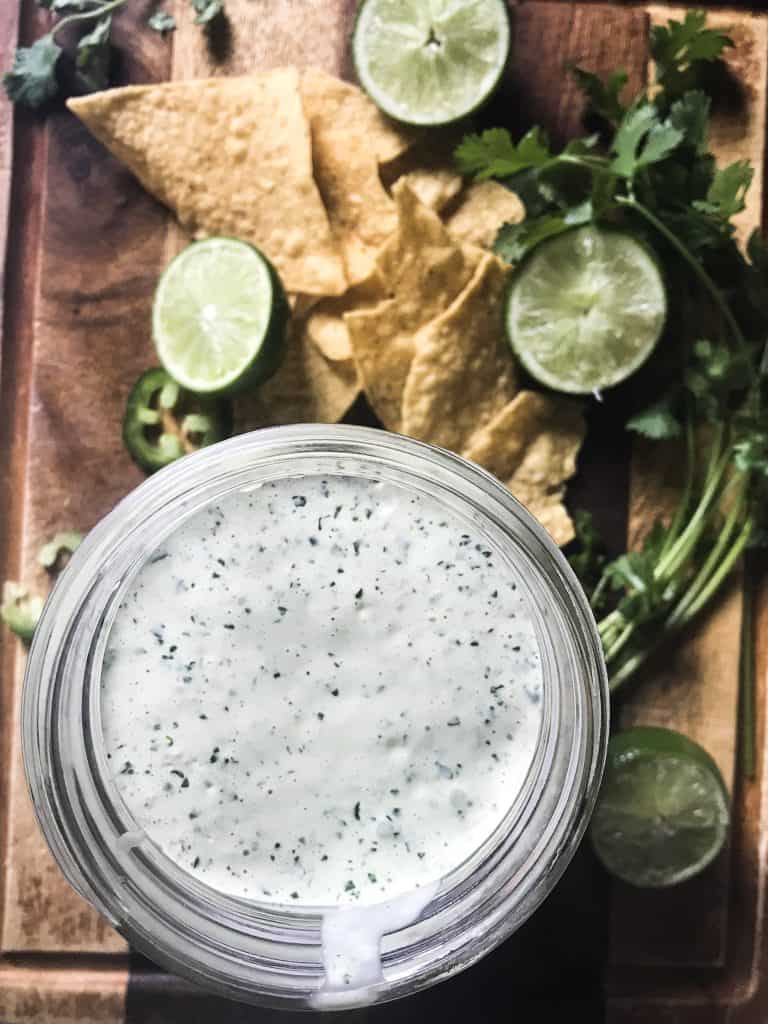 How to store Your Cilantro Lime Crema Sauce
Place in an airtight container and store in the refrigerator. It is best if it can chill for at least an hour for the flavors to come together.
It should keep for at least a week when stored in the fridge. Maybe two weeks if you don't eat it all by then. (Depending on the freshness of your ingredients when you started.)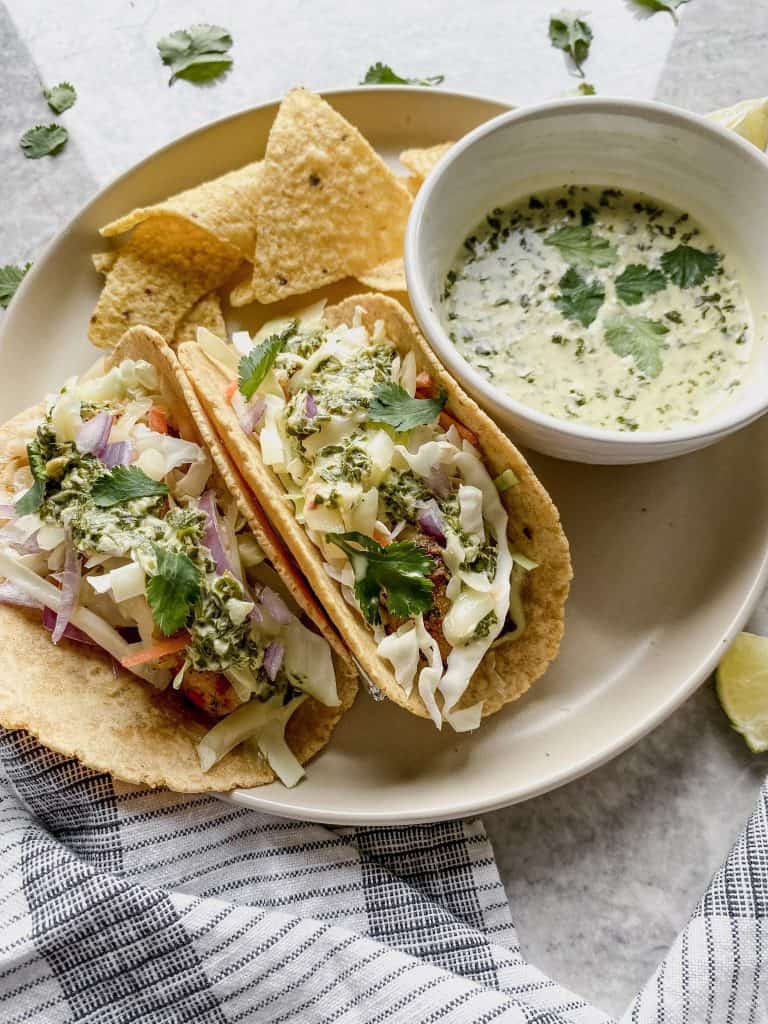 How to make this Dairy Free and Vegan Friendly
This Cilantro Lime Crema sauce can be made dairy-free/vegan-friendly by using Sour Cream Plant-Based Alternative and vegan mayonnaise in equal parts as called for in the original recipe.
If you cannot find or cannot use a plant-based sour cream alternative due to its ingredients, try this alternative:
Change the portions to 1 1/2 cups of vegan mayonnaise and about 1/2 cup of dairy-free milk. I prefer to use unsweetened oat milk to keep the flavor profile neutral.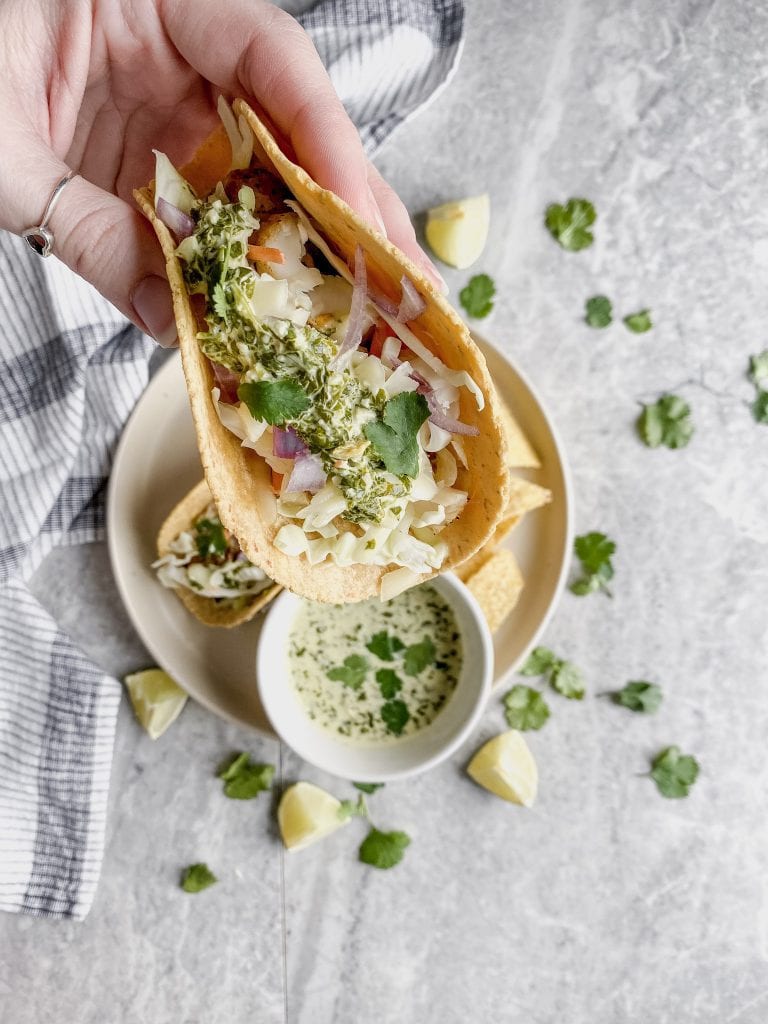 Pro Tips
I mentioned that I prefer using the leaves of the cilantro, rather than the entire stems. To me, the stems make it bitter. But if you are short on cilantro and need some more to bulk it up, feel free to toss the whole thing in.
The one jalapeño that is called for in the recipe keeps it mild. This is the way my family enjoys it with our four children. If too many seeds or more jalapeño get in there, they say it is hot. But be the judge for your family and adjust to taste.
If you'd like to turn it into more of a creamy cilantro lime dressing recipe, you can add milk (or heavy cream) to thin it out.
Many people prefer to use plain greek yogurt in place of sour cream, and that is totally ok to do in this recipe as well.
Other Recipes You May Enjoy
If you love this sauce, it goes super well with my Gluten Free Fried Fish Tacos!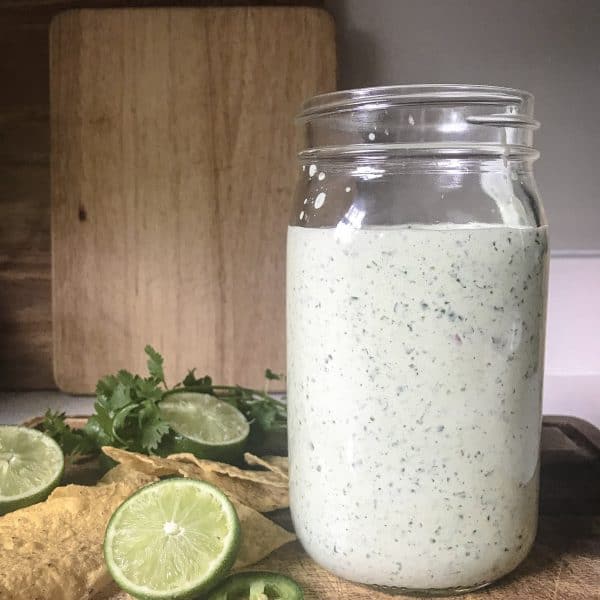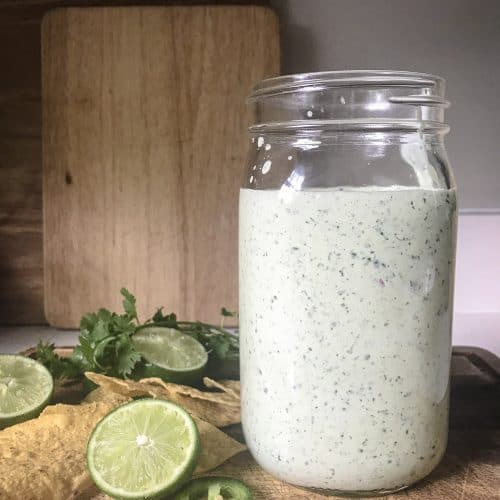 The Best Cilantro Lime Crema Sauce For Tacos
This delicious cilantro lime sauce will take your mexican dish to a whole new level.
Ingredients
Condiments
1

Cup

Mayo

1

Cup

Sour Cream

(plain greek yogurt can be substituted as well)
Produce
1 1/2

Limes

Juice from limes

or 3 tablespoons lime juice

1 1/2

bunches

Cilantro

(use the leaves, not the stems)

1

Jalapeno

deseeded, (Adjust to taste)

3/4

cup

Onion

slightly chopped, (red onion, yellow onion, or white onion all work well. Green onions are not suggested.)

1 1/2

tbsp

Garlic

minced fresh
Spices
1

tsp

Cumin

salt and pepper to taste
Instructions
Add all ingredients to food proccessor

Process till large chunks are cut up and the consitency is smooth

Store in a quart size mason jar
Notes
Can be made dairy-free by using Sour Cream Plant-Based Alternative and dairy-free mayonnaise.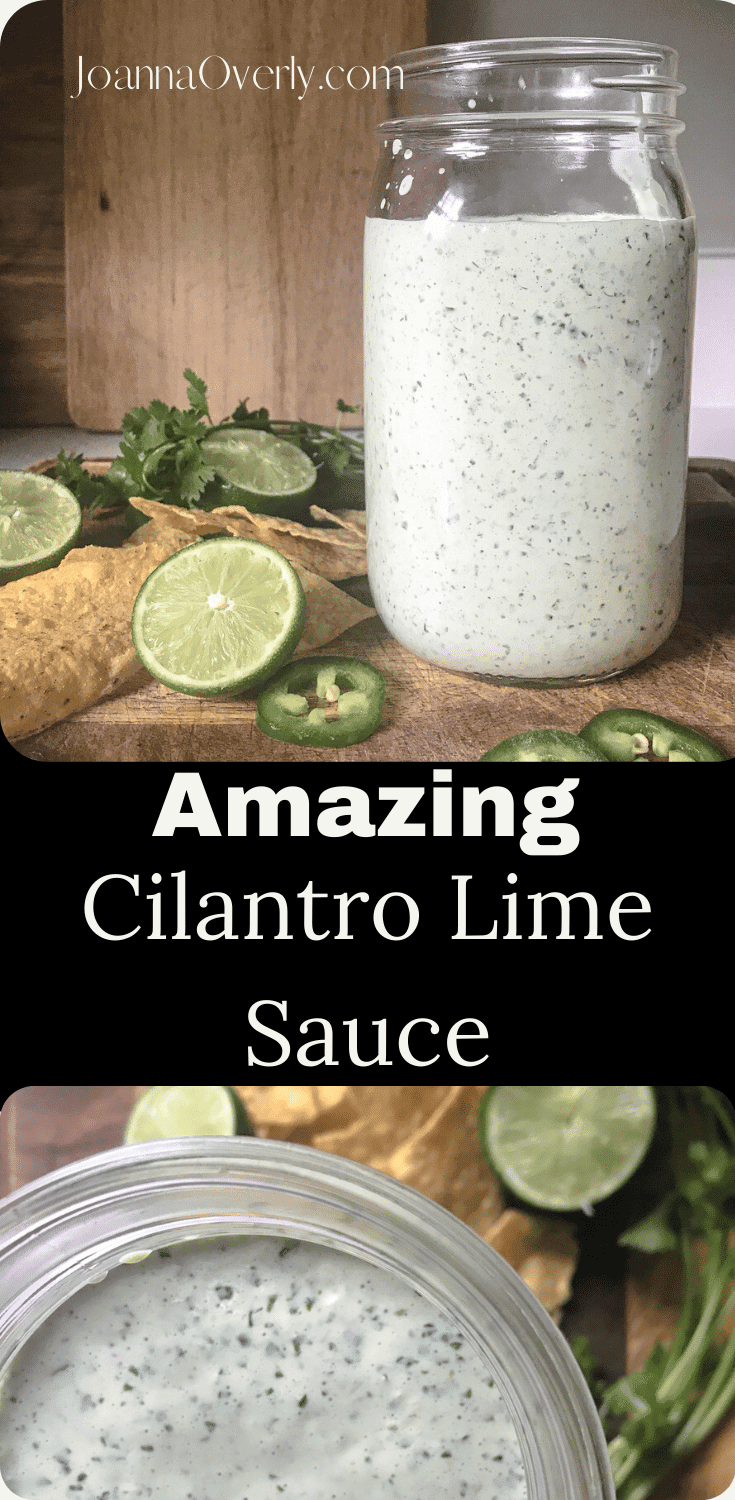 Enjoy this recipe over some Easy Instant Pot Mexican Chicken with Only 3 Ingredients tacos.
Or use as a dip for these Air Fryer Chicken Wings: Surprisingly Simple.
If you love this recipe as much as we do, don't forget to pin it to save it for the next time you have taco night!
It really is the perfect sauce for many different dishes. What are your favorite tacos? (Mine are a toss-up between fish tacos or shrimp tacos.) Because I'm sure this easy cilantro lime sauce is going to take them up a notch!
If you try it and love it, I'd so appreciate it if you come back and give the recipe 5 stars!