This Instant Pot Mexican Chicken with only 3 ingredients comes together quickly for busy weeknight dinners or anytime you need something fast.
It is so versatile! Stuff tacos, nachos, quesadillas. You could make a Mexican salad or use it to make larger dishes like casseroles. One of my favorite things to make with it is a Mexican Tortilla Soup using my homemade bone broth.
I've been doing this for years in my slow cooker but have moved to my Instant Pot. I can have the same great flavors but in record time.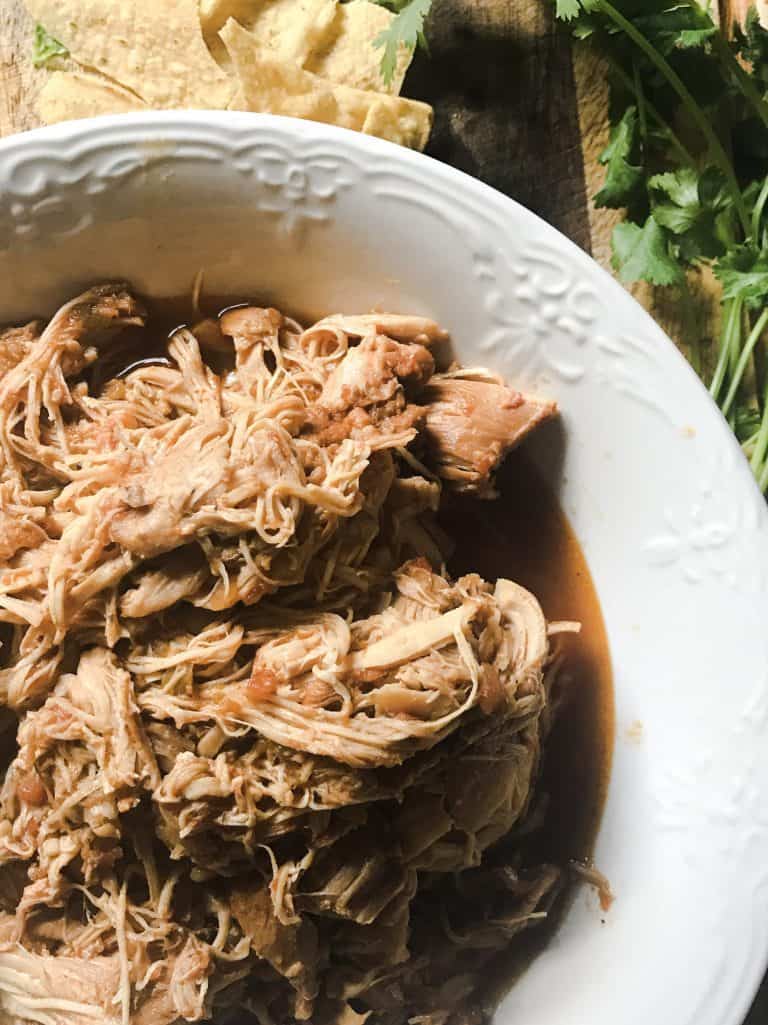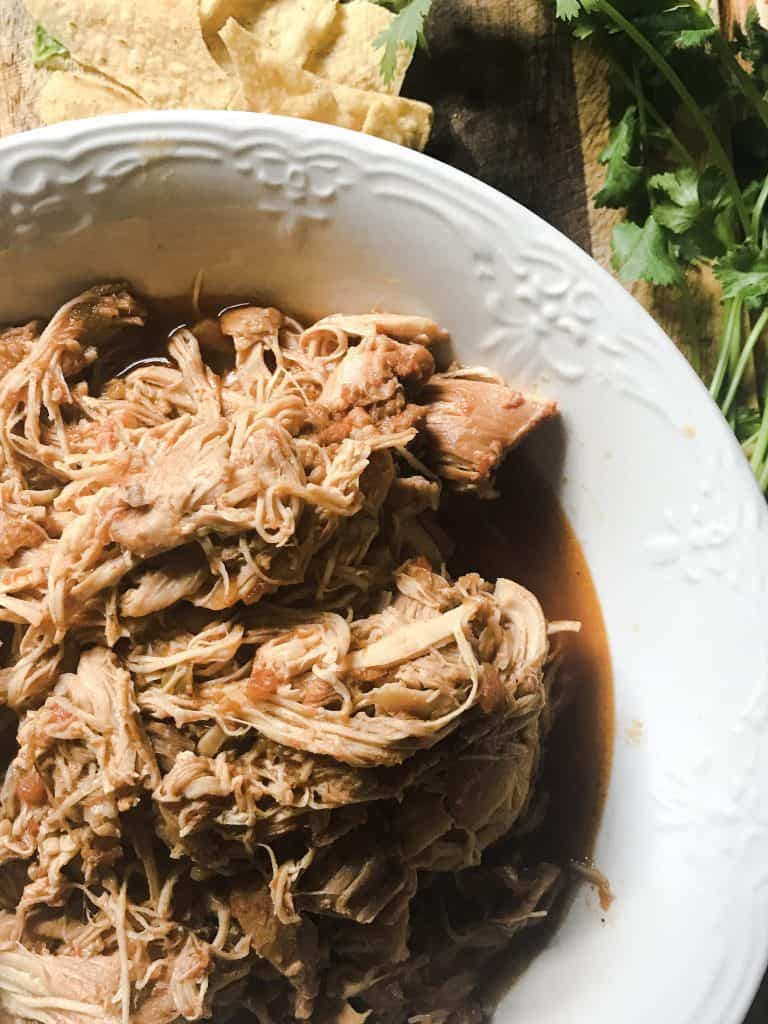 Please note that this post contains affiliate links and I may possibly earn a commission on qualifying purchases at no extra cost to you as I am an Amazon associate.
Mexican food is one of my favorite cuisines. The varying levels of heat from spices, cooled off by some sour cream or guacamole. Add in some crunch of lettuce and onions, or cabbage depending on the dish. Then a bit of creamy cheese, followed by the acid from the salsa is culinary perfection. This recipe is going to get you ready to dive into some easy but delicious meals.
What You Will Need to Make this Instant Pot Mexican Chicken
Instant Pot:
I love my 6 quarts Instant Pot and you can grab one here if you don't have one yet.
But do not fret if you don't have one either. You can adapt this recipe and use the slow cooker.
Chicken: I prefer boneless chicken thighs for more flavor but it can also be made with boneless chicken breasts. (If your chicken is frozen, see notes down below for adjusting cooking time.)
Herbs and Spices: Technically this is more than 1 ingredient. Specifically, we're talking ground cumin, chili powder, garlic powder, onion powder, oregano, and paprika. But you could use a homemade premade mix or one from the store. If you are doing the latter, add up the total Teaspoons used and use that much to make sure the dish is well seasoned.
Salsa: I usually use a medium, chunky red salsa but I have yet to find one that doesn't work in this. A Verde or thinner salsa still comes out with good results. Try different kinds and see what you like best, it does need to be salsa though. Pico de gallo does not have enough liquid in it to safely let the pressure cooker get to pressure.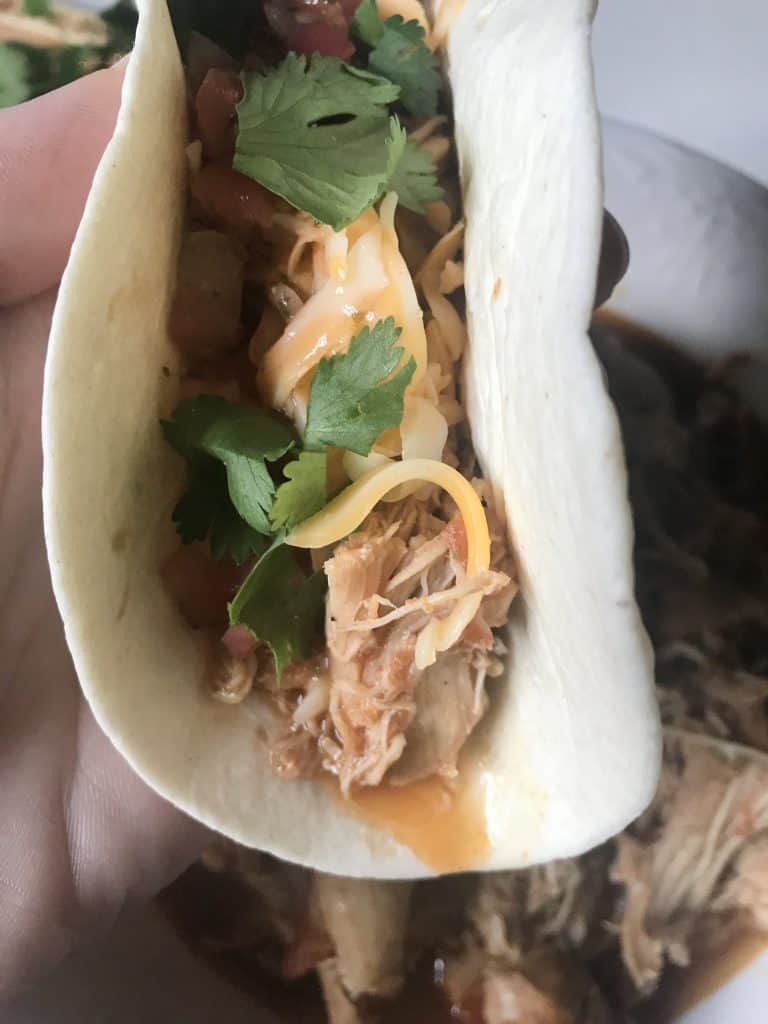 How to Make Easy Instant Pot Mexican Chicken
First:
Add the chicken to the bottom of the Instant Pot. No need to use the trivet, just put the chicken in the bottom.
Second:
Top with the salsa and seasonings. Dump it all on there, give it a little stir. We're talking super simple here.
Third:
Turn on your Instant Pot to pressure cook. The amount of time will need to be adjusted to your model and by the weight of meat, you are cooking. My pressure cooker takes 6-8 minutes per pound of chicken breasts/ chicken thighs.
Fourth:
Once it is done cooking, let it come to normal pressure if you have time. If you only have 5-10 minutes or so, that's ok. I've done it, but if the pressure changes too quickly, it can make the chicken tough or dry.
Fifth:
Serve it up! I use a slotted spoon to help remove some of the liquid.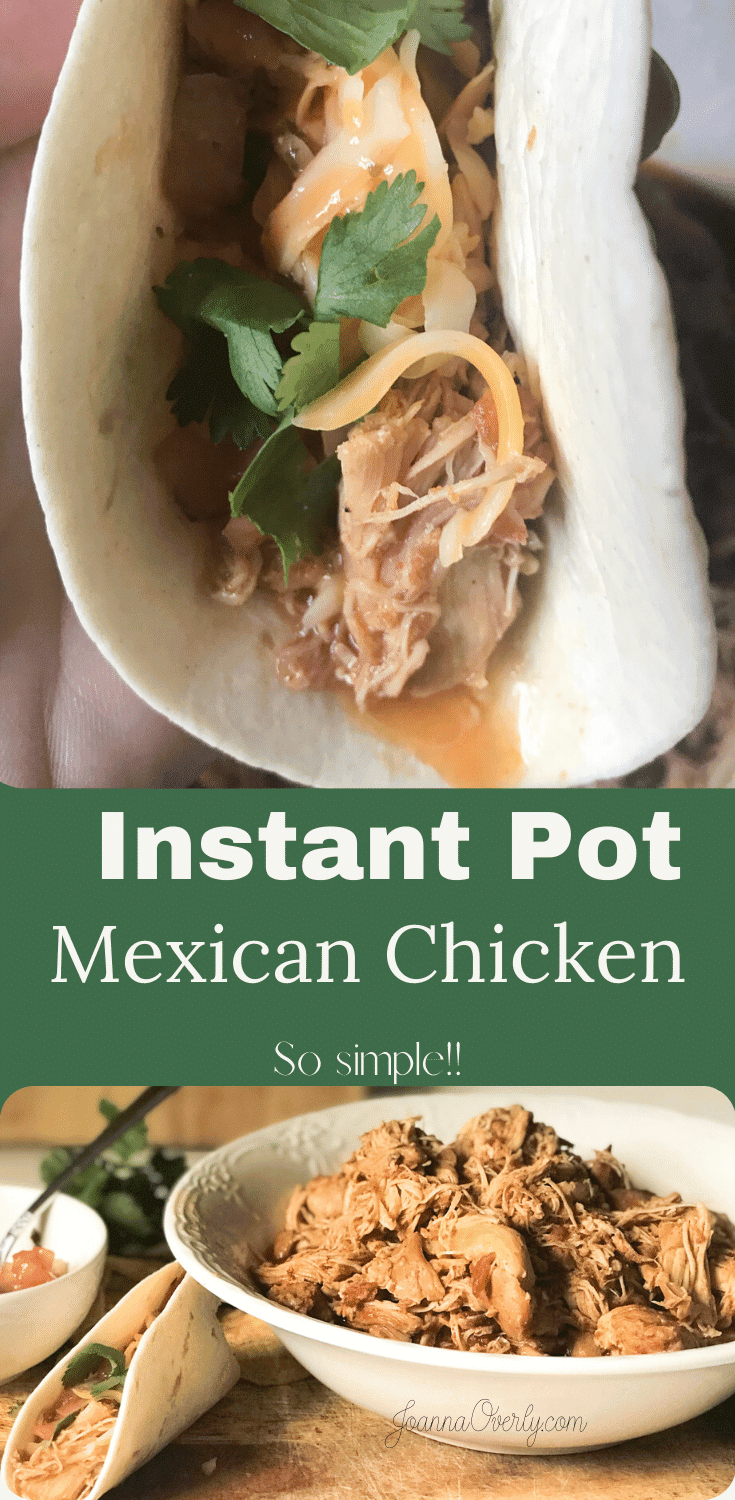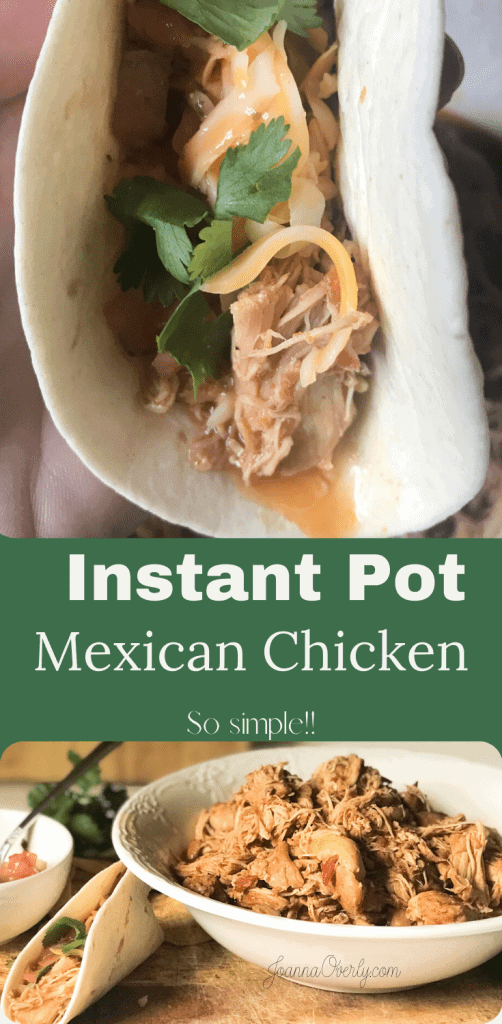 Notes:
If you'd like, you can remove the chicken and make a slurry ( a mix of cornstarch and water) to help thicken up the sauce. Turn on the sauté option and whisk the slurry into the liquid. I turn mine off before it has fully come together as it stays hot for a while afterward, like an electric cooktop. Then add the chicken back into the sauce and serve as usual.
Want to use chicken breasts:
You totally can, just increase/ decrease the timing depending on the weight, as most packages are a bit heavier than the 2 pounds the recipe calls for. Another reason I love having a
" target="_blank" rel="noreferrer noopener nofollow">scale in the kitchen is that I can adapt recipes and timing easily.
Got Frozen Chicken?
As long as you have them separated, you are good to go. If they are in one big ice chunk, run them under some cool water for a bit to break them up. Otherwise, they will not cook evenly. Increase cook time to 20 minutes.
I usually Double this Recipe
It is great to use as leftovers because if you originally had tacos, another meal can be quesadillas in a snap.
Leftovers should be refrigerated in an airtight container and consumed within 5 days.
It can also be frozen in food-safe ware for up to 6 months. As with any leftovers, first, let it cool to room temperature before storing them.
Other Recipes You May Enjoy
This Gluten Free Fried Fish Recipe with Cilantro Lime Cream Sauce is a family favorite for good reason!
Or if you'd just like to add the Cilantro Lime Cream Sauce to these chicken tacos or any other recipe, it is a great addition!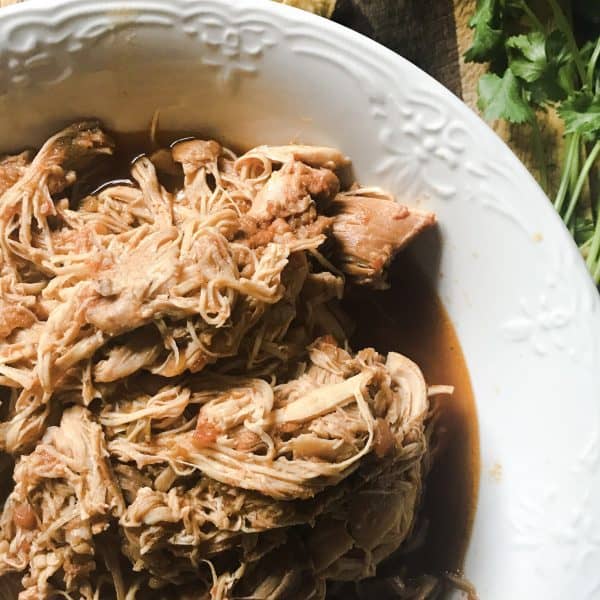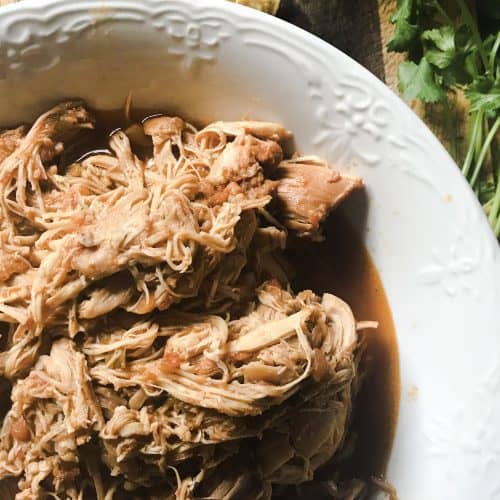 Easy Instant Pot Mexican Chicken with Only 3 Ingredients
Take 3 ingredients you probably already have on hand, to make quick and delicous Mexican chicken.
Equipment
Pressure Cooker ( or slow cooker)
Ingredients
2

pounds

chicken thighs

alternatively: chicken breasts
Condiments
1

cup

salsa

experiment with your favorites
Herbs and Spices
1

tsp

chili powder

1

tsp

onion powder

1

tsp

paprika

1

tsp

garlic powder

1/2

tsp

cumin

1

tsp

minced garlic

1/2

tsp

oregano

1

tsp

mineral salt

dash

pepper
Instructions
Place chicken thighs in bottom of instant pot

Pour the cup of salsa over the chicken thighs

Sprinkle all the seasonings on top of the chicken and salsa

Give it a little stir so some of the salsa gets to the bottom of the pot, but also stays on top of the chicken

Turn on to "pressure cook" function and set timer for 14 minutes (always adjust to your specific model's recommended cooking time.)

When time is done, let it sit for 5-10 minutes or fully come to natural pressure.

Release pressure (Always follow your manufacture directions)

Use a slotted spoon to remove chicken, enjoy!
Notes
Always cook chicken thighs or breasts to at least 165 degrees 
If you'd like to thicken the cooking juices into a sauce:
Make a slurry mix together equal parts water and cornstarch. (1/2 cup water, 1/2 cup cornstarch for example) in a mason jar. 
Put a lid on it and give it a shake.
Remove all the chicken from the juices in the bottom of the instant pot and set it aside in a clean bowl. 
Turn the "sauté" feature on and as it comes to a boil, whisk in some of the slurry, a little at a time. (The amount necessary will vary depending on how much liquid is released during cooking.) 
Let it boil for a minute and decide if you would like it thicker. If so, add a bit more of the slurry till you reach your desired consistency. 
Return chicken back into the sauce and serve how you desire. 
How to Make Easy Mexican Chicken with a Slow Cooker
Place chicken in the slow cooker, pour salsa, and seasonings over chicken. Close lid and set heat on low for 4 hours. That's it! 
If using frozen chicken, increase cooking time to 6 hours.
To Use Frozen Chicken in the Pressure Cooker: Increase cooking time to 20 minutes.
Always cook chicken thighs or breasts to at least 165 degrees internal temperature.